If you are a pool owner, you are probably aware of how big of a chore it is to clean the pool. To make it easier, a great many manufacturing companies have jumped in the race of coming up with advanced and highly equipped automatic pool cleaners that do the job for you.
Polaris has been in the industry for over 40 years and offers a wide range of premium quality cleaners that have become the number one choice for many buyers.
Pentair, on the other hand, is a relatively newer member of the pool equipment industry. In spite of that, it is among the highest-ranking manufacturers of pool cleaners, and is particularly known for offering marvelous products at budget friendly rates.
If you are torn between which cleaner to pick for your pool, here is a side-by-side comparison of both these brands to make the decision easy for you!
Performance
Polaris
Polaris has introduced a diverse range of robotic pool cleaners to the market, that vary in their strength, features and price. However, the one thing that almost all Polaris cleaners have in common is superb performance.
Most of the users swear by Polaris cleaners due to their ability to get to the bottom and clear off all sorts of debris, and particles of even the tiniest size. They skim through all the creaks and corners to ensure that the water is crystal clear.
Cherry on top is the outstanding speed of these cleaners, which allows them to complete the task in as little as 1.5 hours. What more can one ask for!
Pentair
The performance of Pentair robotic cleaners has also turned many heads. The brand particularly excels in terms of designing of its cleaners, that are targeted for maximum traction, powerful suction, as well as efficiency.
The cleaning is automatic and continuous, and gets done in around 2 hours. However, some users have complained about the inability of Pentair cleaners to clear off algae and tinier particles, especially on the stairs.
In conclusion, the overall cleaning capability of Pentair cleaners is tremendous.
Maintenance and Durability
Polaris
In terms of maintenance, Polaris cleaners are a treat for lazy people. Most of them are compact and come with various sizes of canister. Larger canisters help in avoiding the need for frequent replacements. Moreover, newer models of Polaris cleaners are designed in a way that gets rid of the dirt and debris by simply shaking, without you ever touching it! 
The supreme quality of materials used in manufacturing of Polaris cleaners makes them highly durable, lasting on average for up to 5 years.
Pentair
Pentair also lives up to the expectations when maintenance is concerned. The latest models do not require booster pumps for operation, which not only lowers the cost but prevents the need of extra care. Furthermore, Pentair cleaners come with disposable cleaner bags, which means that you do not need to empty and clean them.
Most of the Pentair cleaners are quite durable and last for 3 to 5 years. However, there have been complaints that some models break down in less than a year, which is a big concern.
Ease of use
Luckily for the customers, most brands these days are competing hard in terms of ease of use of their products. While hassle-free cleaning is the hallmark of robotic cleaners, over-complicated models can prove to be a real nuisance.
Both Polaris and Pentair take pride in producing robotic cleaners that are exceptionally simple to use. Cleaners with remote controllers have been launched in the market by both brands for some time.
Polaris
However, most customers find the controllers of Polaris the least complicated to get the hang of. Additionally, almost all of the newer models of Polaris are compatible with mobile apps and wi-fi systems. These allow easier handling, scheduling and control of the cleaner. The job is made even easier by the power indicator and dirty canister indicator.
Pentair
Pentair has also introduced a couple of computer-controlled models that make life easy for the user. However, it has been noticed that most of their robotic cleaners need reprogramming more frequently than some other brands, including Polaris, which can be cumbersome. 
Cost and Pricing
Now comes the big question – the cost?
When the price point is considered, Pentair is the chief. Most robotic pool cleaner models of Pentair, including even the latest ones, are fairly light on the pocket as compared to those by Polaris.
You can purchase a modern, advanced Pentair pool cleaner for less than $700. In this price range, we highly recommend getting the Pentair Kreepy Krauly Legend.
On the other hand, a reasonable model of Polaris like the Polaris Neo retails slightly above that. The newer, better equipped ones costing as high as $1500 which I would not consider worth the extra dollars.
Value For Money
At this point, it is quite obvious that both Polaris and Pentair have brought some excellent pool cleaners to the market. Both brands offer some superb qualities that have gained them great popularity among the buyers.
Pentair
Pentair is particularly known for providing a myriad of features and highly standard cleaners at surprisingly low cost. You get the job well done for around half the price as other brands, especially Polaris. 
Polaris
On the other hand, the cleaners manufactured by Polaris are of top-notch quality, that can serve you for years without even slightly compromising the function. This can partly justify the hefty cost, as you won't have to replace the cleaner again and again. Nonetheless, there is no doubt that Pentair offers a significantly higher value for the money.
Official Website
The websites of both Polaris and Pentair are resourceful and up-to-date. Both brands have opted for a blue and white aesthetic for their websites. They are easy to navigate with drop down menus and simple categorization.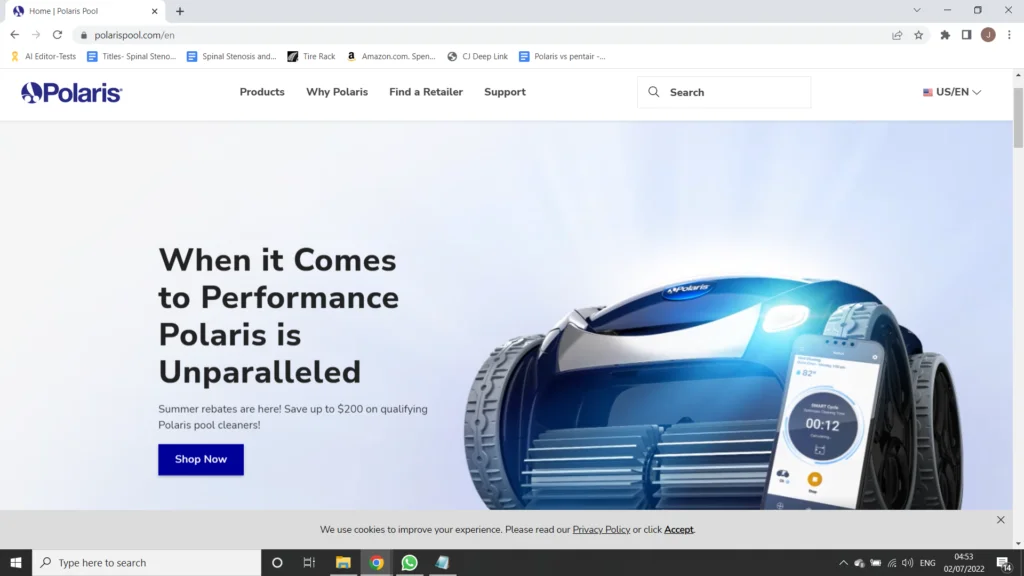 Pentair additionally provides extra information about pool care, maintenance and troubleshooting which is definitely a plus.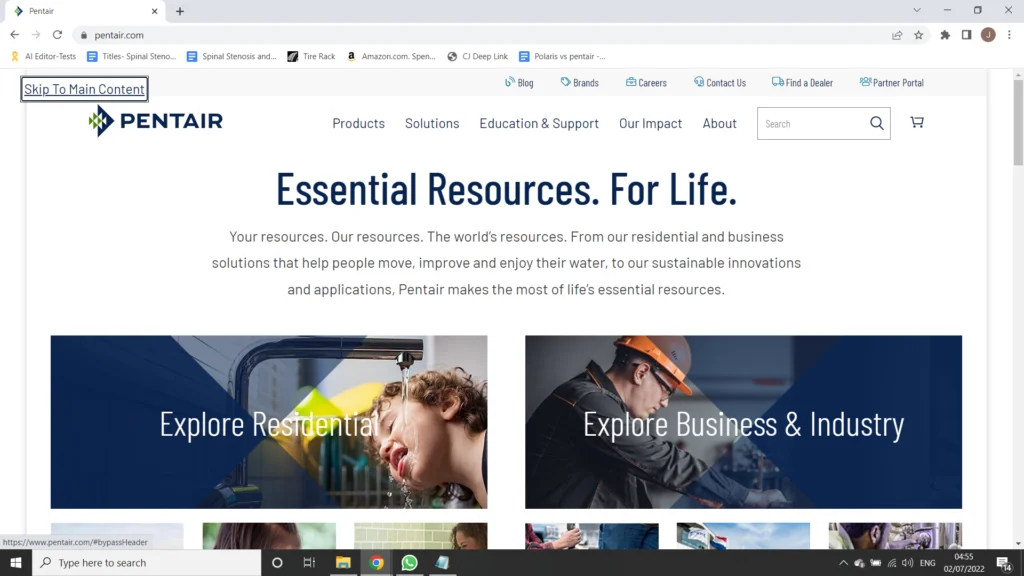 Product Line-up
Here is the list of products that the brands currently display on their websites:
Polaris
Polaris Neo (Editor's Choice)
Polaris ALPHA™ iQ+
Polaris VRX iQ+
Polaris ALPHA™ iQ
Polaris EPIC™ 8642 iQ
Polaris 7240 Sport
Pentair
Pentair Kreepy Krauly Legend (Editor's Choice)
Prowler 930W Robotic Cleaner
Warrior SE Robotic Inground Pool Cleaner
Warrior SL Robotic Aboveground Pool Cleaner
Customer Care and Return Policy
Pentair has gained a great fan base in the past few years due to its excellent customer care services. The brand offers separate contact details for each category of their products. This means that you will be dealt by someone who knows their way around pool cleaners.
Pentair also has a generous return policy, guaranteeing a full refund if the product is returned within 90 days.
On the other hand, buyers have complained that the helplines of Polaris are most often not resourceful. The return policy of Polaris is also not clearly stated. Safe to say, Pentair is the ultimate winner in this department.
Conclusion
Polaris, being an older, more reputable brand, charges more for their products but they also have an edge in the performance and durability. Pentair is not a slouch either in those departments and it offers its products at a significantly lower price.
It is up to you to decide whether Polaris pool cleaners are worth paying the extra premium for.
If you found this comparison helpful, make sure to check out our other equally in-depth comparisons: