When it comes to hot tubs and spas, Hot Springs and Sundance are two brands that instinctively pop up in the mind. This comparison is intended to help you decide which of these industry giants you should go with.
Hot Springs has been manufacturing hot tubs since 1977 at their facility located in Vista, California. Pertinent to mention here that the quality and durability of these hot tubs is not as one would expect from an American brand.
We compared Hot Springs to Bullfrog as per popular demand in our comparison Bullfrog Vs Hot Springs.
Sundance is a newer brand in comparison but has become a veteran of the hot tub game too in its short 18 years history. Originally from Ontario, they are now being manufactured in Mexico, for some reason, but that does not necessarily mean that they are inferior in quality. 
Product Line-up
Hot Springs
Hot Springs has split up their hot tub offerings into 3 main series. All of them offer multiple seating arrangements, customizable lighting and a variety of massage jet options. The three of them are:
The HighLife Collection; the most high-end, premium hot tubs that Hot Springs has to offer.
The LimeLight Collection; they have most of the advanced features that the industry has to offer at a significantly lower price.
Hot Spot Collection; priced the lowest and providing the highest value among the three. You can also get wireless entertainment as an option.

In addition to hot tubs, Hot Springs offer 3 different types of spa jets; Soothing Stream Jet, Jet Stream Jet and a Rotary Hydromassage Jet.
Sundance
Sundance offers its hot tubs in 4 primary series. You can get multiple jets, multiple seating capacities and custom lighting with any of them. The series are as follows:
980 Series; the most premium, top offerings by Sundance. They have the highest number of jets and aromatherapy as well. Their styling is contemporary.
880 Series; offering modern styling with the most advanced features including aromatherapy.
780 Series; offering a modern design with fewer features at a significantly discounted price. They do have LEDs and waterfalls.
680 Series; considered the economy series while still offering LEDs and waterfalls and a massive seating capacity. Alicia, the cheapest one, is priced at around $10,000.

Performance and Efficiency
Hot Springs
Hot Spring tubs, generally, offer good performance and excellent efficiency. Hot Springs has gone far and beyond to maximize efficiency and has even pioneered a lot of technologies in the process.
Their hot tubs can move water up and down your back and the FreshWater Salt system keeps water fresh for up to a year, with the addition of a little salt.
Tri-X filters, perhaps the best technology Hot Springs has to offer, have been reserved for the HighLife Collection. These are able to filter 100% of the water all the time, even with the jets turned on.
The efficiency is also pretty good due to innovative alternatives to the traditional methods of insulation.
Sundance
Sundance spas are really high performers but they take a lot of time to heat up; four to eight hours depending on the conditions. You can reduce the time by opting for the factory upgrade EcoWrap insulation.
The heating capability is fine, even in winter. This should always be the case at this price point, though. Check out our step-by-step guide if your hot tub won't heat.
I am also totally satisfied with the efficiency of Sundance Spas. The electrical consumption is on par with its competitors and the insulation maintains temperatures exceptionally well with the EcoWrap.
Durability and Maintenance
Hot Springs
Hot Spring hot tubs have been known to provide a superb experience, in the first year of ownership. Further down the line, their hot tubs have always been a hassle due to frequent breakdowns and non-availability of parts.
There have been reports of their hot tubs leaking from the get-go. Additionally. Almost all of their hot tubs will suffer from some sort of leaks within a year or two of installation.
The control panel is also extremely vulnerable to breakdowns and is not always available for replacement. Minor electrical issues require a replacement of the entire electrical circuit which costs upwards of $2500.
All in all, Hot Spring is not the last word in durability and reliability.
Sundance
The build quality of Sundance is significantly higher than Hot Springs, everything from the pump nozzles to the hoses feels sturdier and longer lasting.
There have been nearly zero reports of leaks in the beginning. Their hot tubs do leak frequently but after a good 2-3 years of heavy use. 
Issues concerning sensors and other electrical components are frequent and unresolvable for most users. The newer models seem to be even more vulnerable to them.
The parts are also more easily available than Hot Springs which makes servicing and maintenance significantly easier. The prices of the parts, however, are very high compared to the competition.
Ease of Use
Hot Springs
The installation and usage of Hot Springs hot tubs are fairly uncomplicated. Installation is taken care of by the dealers. The control panels are also pretty basic and straightforward to use.
Sundance
Sundance hot tubs are also equally easy to use. The control panel is easy to navigate and offers all the basic functionality right at the doorstep. It does, however, misbehave occasionally by showing false warnings.
Warranty and Customer Support
Hot Springs
Hot Springs offers a 2 to 7-year warranty depending on various models. Things are not very satisfying when it comes to customer support. 
There have been reports of tubs leaking from the start. Additionally, you have to call them yourself, again and again, for parts and other aftersale services.
Their customer support representatives are really active online but not so much in real life.
Sundance
Sundance offers a 5 to 10-year warranty depending on the models but they do not know how to honor it. Customer support frequently fails to acknowledge genuine issues and may even choose to not cover them under warranty.
Apps and Website
Hot Springs
The official website of Hot Springs is a pleasant surprise. It has been well-designed and has all the information that a potential customer would look for. You can also get a personal quote while there. Here's a snap: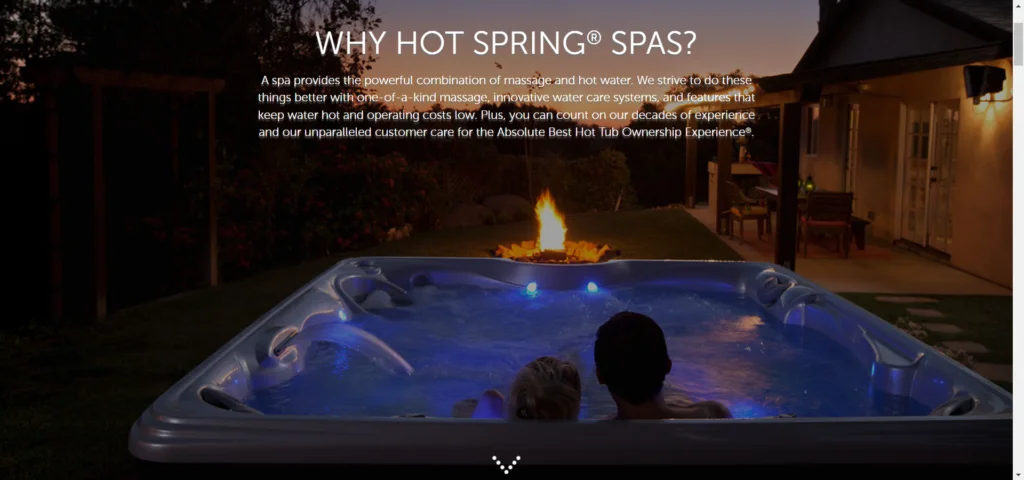 Hot Springs also offers a Virtual View AR app to augment the visualization of their spa. It helps plan and decide the size and design of your spa so that it looks the best in your backyard or wherever you want it to be.
Sundance
The official website of Sundance is a cluttered mess, to say the least, The frequent pop-ups and the complicated navigation are deterring enough and that is if you are able to load the homepage!
Here's a screenshot:
Costs and Value for Money
Hot Springs
A new hot tub by Hot Springs can cost you anywhere between $7000 and $20,000. The lower end of the range gets you a HotSpot hot tub with a seating capacity of three or four persons while the higher end gets you a HighLife hot tub that can seat seven persons.
Sundance
Sundance hot tubs are, generally, priced above Hot Springs. Their MSRP is anywhere between $10,000 and $33,000 but Sundance frequently offers massive discounts so you should surely be able to catch one. As an example, Kingston priced at around $33,000 was being offered for $25,000 at the time of writing.
Conclusion- Which One to Buy? Hot Springs or Sundance?
As is evident from the above discussion, both of the brands' products suffer majorly from build quality and durability issues. The frequent breakdowns coupled with the poor customer support make the ownership experience a nightmare.
As such, I would recommend staying clear from both of them, unless you want to own a money pit that may remain unusable for months on end. If you are looking for an alternative, read our comparison of two popular brands Bullfrog and Hot Springs.
If you were satisfied by this brand comparison, you are sure to love these as well: