The pool equipment industry is a huge and diverse one, with multiple highly competitive brands. Among the endless, and simultaneously mind-boggling array of options, Jandy and Hayward are two of the leading pool equipment brands. Both of these are US based brands that have made their mark by introducing superb products over the years.
Here is a detailed comparison of Jandy and Hayward containing all the guidance that you need.
The Brands
As stated earlier, Jandy is a US based brand that came out in 1958. For over half a century now, it has been introducing a wide range of products for both commercial and residential pools. These products range from pumps and filters all the way to water sanitizers and pool ladders.
Hayward has been in the business of making pool products for about 80 years now, which makes it an older player than Jandy. Although manufactured in the US, Hayward is currently offering its equipment to customers all over the world. These include a huge variety of all kinds of necessities that a pool owner might require, with a specialization in both commercial and residential pools.
Polaris and Pentair are also two competitors owrth mentioning. You also might want to read a comparison between Polaris and Pentair, in this regard.
Websites
Jandy has an edgy website with a modern yet graceful theme that stands out. It is surprisingly easy to navigate, as all the options are displayed in a straightforward manner. Additionally, the website has a lot of visuals for the aid of the customer, which is a great plus because that means that you don't have to hunt on the internet for pictures.
The categories; commercial and residential, are added to the homepage with all the products listed underneath. This is definitely a convenient feature.
With its appealing and professionally apt website, Hayward doesn't disappoint us either! The website of Hayward is up-to-date, with a multitude of resources for the guidance of the customer. It has an eye-catching theme with mesmerizing pictures as well as videos, which makes it stand ahead of Jandy's website.
Most of the links are displayed on the homepage of the website, which saves the customer from a lot of hassle. Additionally, there are extensive options for the customer and an amazing tool that allows you to make your own virtual pool! Isn't that terrific?
Product Categories
Jandy serves the needs of both commercial and residential pools. It manufactures products that are specific to the needs of each of these categories. These include pumps, filters, heaters and heating systems with various calibers. It also produces water sanitizers, as well as pool rails, ladders and valves. Interestingly, Jandy is one of the few brands that have automation systems, which is a major reason for its popularity.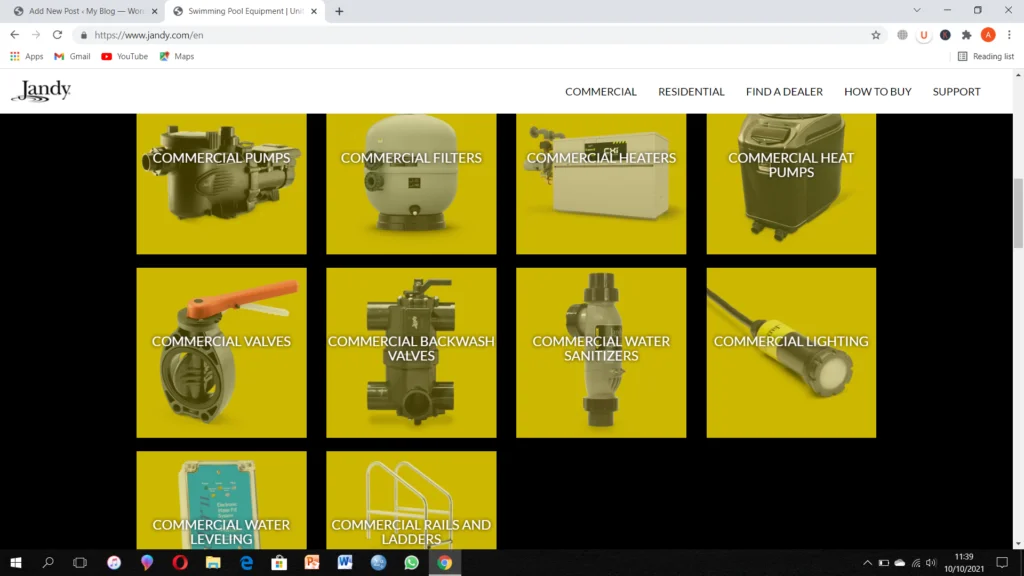 Hayward has an impressive and inclusive product range that caters to the needs of almost all types of buyers. It has specific products for both residential and commercial pools, as well as above the ground and in-ground pools, which is unique.
Hayward has a wide variety of pool pumps, filters, heaters and sanitation systems. The pumps come in various options, with a total horsepower of 0.5 to up to 7.5 THP. In addition, it also manufactures different types of pool lights. Hayward also offers advanced automation systems to its buyers.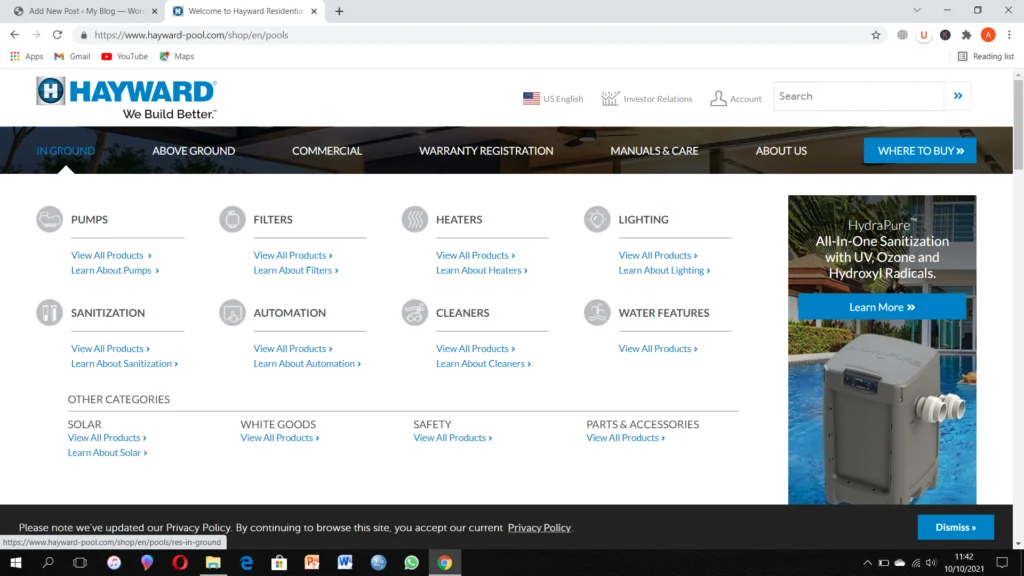 Quality and Durability
The huge number of dedicated customers speaks for the quality of products that Jandy manufactures. Some of the equipment produced by Jandy, such as their valve actuators, are top rated among the category. Similarly, AquaLink, which is the automated system of Jandy, holds the status of an ideal in the category of automated systems. It is also greatly reliable and of top-notch quality.
However, some products introduced by the brand haven't lived up to the expectations. These include the filters, heaters and salt systems which are known to crack easily. Although Jandy claims that it has fixed the issues, the unsatisfactory quality of these products has raised questions on the reliability of the brand.
Hayward is trusted by millions of pool owners for the quality of its equipment. In fact, it is widely recommended by technicians and builders that claim its longevity and durability. Almost all the products manufactured by Hayward have superb quality materials that allow them to withstand all sorts of conditions and last a long time. The standard of Hayward equipment is comparable to that of really expensive brands, which makes it a definite go-to.
Warranty and Customer Support
Jandy offers a comprehensive warranty policy to its buyers. Most of the filter systems are backed by warranty of at least 1 to 3 years, which is quite generous. Similarly, cleaners come with a warranty of up to 90 days. The cleaner wear and tear items, however, do not have any warranty. 
Jandy has extensive customer support, and it offers a number of means of contact to its customers. However, some of the buyers have complained of inadequate support from the brand, which raises concerns. Furthermore, the instruction manuals and guidelines provided by Jandy have been deemed insufficient.
The warranty offered by Hayward on its products is quite reasonable, lying somewhere between 1 to 3 years for almost all the products. In addition, Hayward offers extended warranty to its buyers every now and then, which is an excellent feature.
The customer support services of Hayward are excellent, and most of the customers seem to be satisfied. The company is easy to contact and approach, and provides helpful support and guidelines. The website of Hayward features a number of manuals, guides and a comprehensive FAQ section that are of great help to the buyer.
Pricing
Both Jandy and Hayward fall in the category of affordable brands, and offer its products at quite reasonable prices. However, some products manufactured by Hayward are even more economical than those of Jandy, which make it an overall better bang for your buck.
Conclusion
From the discussion above, it is fairly easy to conclude that both Hayward and Jandy are highly competitive brands that offer marvelous products at affordable prices. Hayward, however, offers a better value for money as the quality of its equipment is extraordinary and highly reliable. The final choice, however, falls on the pool owner.
If you liked this review, you'll love Endless Pools Review. Also you may like our pool surface comparison review Aqua Blue Vs Aqua White Mini Pebble.
Some of our other equally in-depth comparisons: