Owning a pool has its benefits as well as hassles, and maintenance of pool chemistry is among the leading ones. In recent years, the industry has shifted towards smart pool water monitoring devices, instead of the conventional test kits and strips.
WaterGuru and Sutro are among the top players in the world of smart water monitoring devices. Both have won praises of a large number of pool owners who have used them and swear by them.
If you are planning on investing in an automatic pool water testing device and are torn between WaterGuru and Sutro, look no further. Here is a side by side comparison of the two to make things easy for you. We also did a detailed comparison between Sutro and pHin for the best pool monitor available right now.
Products and Ease of Use
WaterGuru
The WaterGuru Sense came out in 2017, with the aim of making pool chemistry testing less cumbersome. The package includes the monitor, 4 C batteries, cassette with pads and a water testing kit. The water testing kit is a huge plus, as it does not usually come with other monitors including Sutro.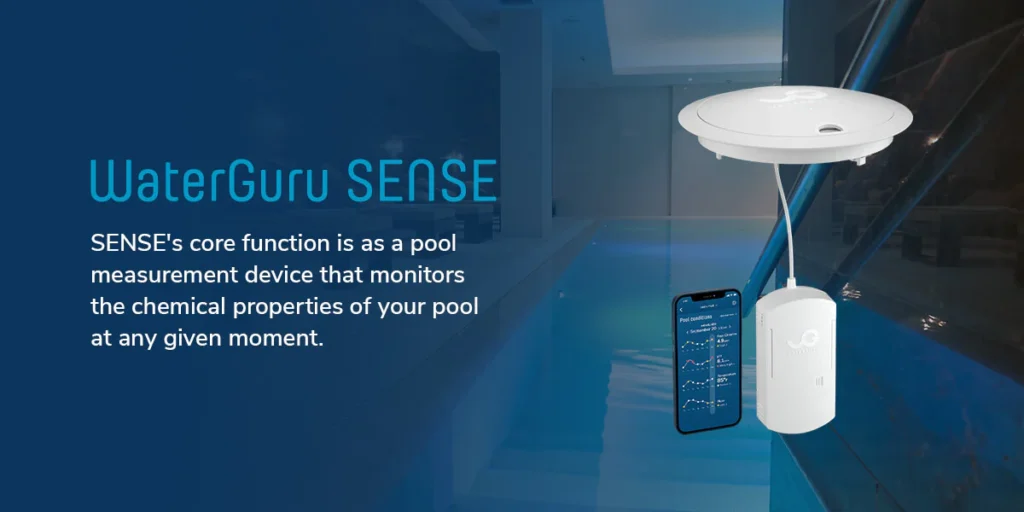 The WaterGuru monitor is fairly uncomplicated to set up and requires little time. The monitor sits in the pool's skimmer reservoir, out of your sight.
Sutro
The Sutro water monitoring system was launched in 2012, so it has been around for a longer period than WaterGuru. The device itself is quite elegantly designed, and comes with 2 rechargeable batteries, test cartridge and an adapter. However, the monitor is much larger in size than WaterGuru.
The installation and setting up of Sutro is pretty straightforward as well and requires no technical knowledge. However, unlike WaterGuru, the Sutro monitor floats around in the pool and does not sit in a skimmer so you will have to get used to seeing it around during swimming.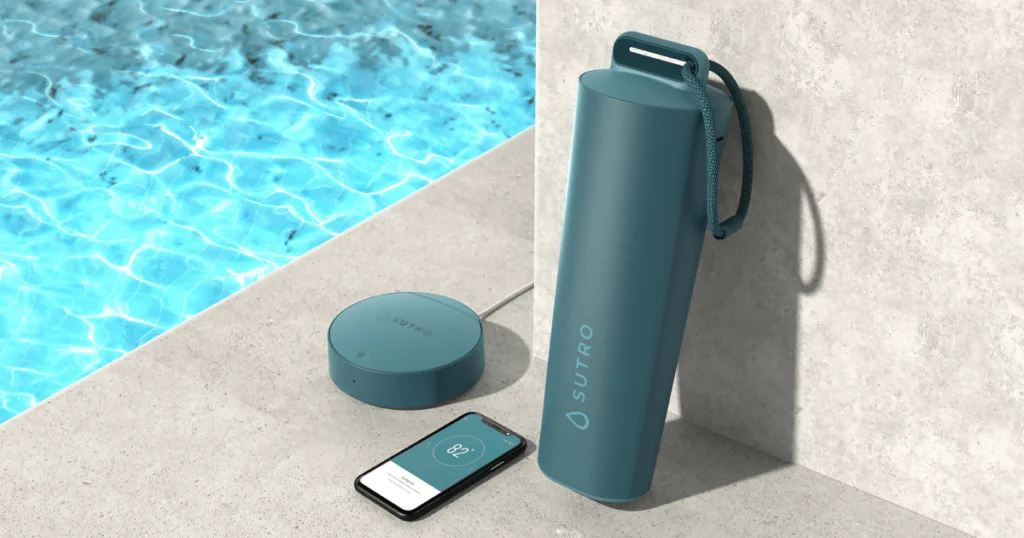 Performance And Efficiency
WaterGuru
WaterGuru monitor is designed to test 4 parameters of your pool water: pH, free chlorine, water temperature and water flow. Thus, it covers the basics of your pool water that are required much more frequently, but not the entire range of pool chemicals.
WaterGuru is known to be quite accurate in its readings, which is pretty impressive because getting precise readings of free chlorine with an electronic device is not easy. Similarly, it notifies you if the water flow is not adequate in your pool. This takes it one step ahead of most other pool water monitors.
While WaterGuru allows you to accurately test your pool water, it does not particularly stand out in terms of efficiency. It takes 20 minutes to generate a water quality report, which is relatively slow.
Sutro
Sutro excels in terms of the number of parameters of pool chemistry that it covers. Sutro can measure the pH, free chlorine, bromine, water temperature as well as the alkalinity of your pool water.
Furthermore, the readings that it generates are highly reliable and accurate, thanks to the LaMotte reagents that it uses. These reagents are known to give far more precise values than the ORP method that other devices including WaterGuru use.
Sutro is also noticeably more efficient. It tests the pH and free chlorine levels of the water every three hours, the water temperature every hour, and the alkalinity of the water once a day.
Apps and Subscriptions
WaterGuru
The WaterGuru app is fairly easy to install and set up. You are asked to enter the details of your pool such as its size and whether it is in-ground or above. The app analyzes this data and determines the ideal water chemistry for your pool.
A huge pro of the WaterGuru app is that it does not require a hub to connect to your home Wi-Fi network. On top of this, it has no subscription fee, so it is reasonably light on your pocket as opposed to Sutro.
The aesthetic of the WaterGuru app is basic and not very catchy when compared to that of Sutro. Moreover, it presents data in forms of graphs and overwhelming information, which can be slightly cumbersome.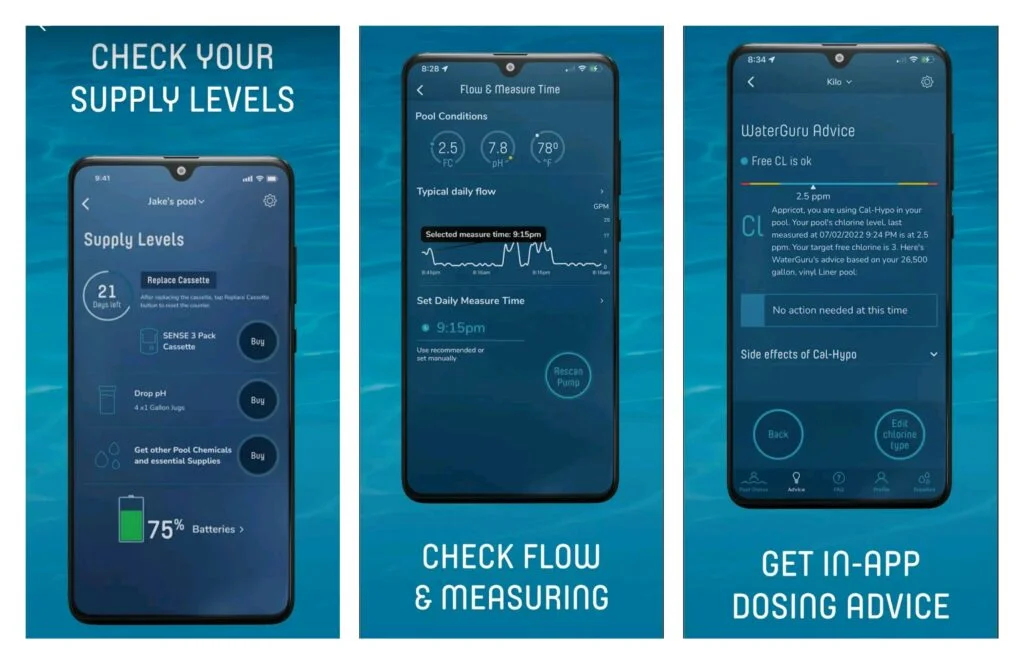 It does, however, allow you to reach out to the WaterGuru service agents for help which is a huge plus. Moreover, it also gives you periodic warnings and solutions to the changes in pool chemical levels.
Sutro
The Sutro app is immediately more interesting to look at. It presents information clearly and categorizes data which makes it far easier to navigate.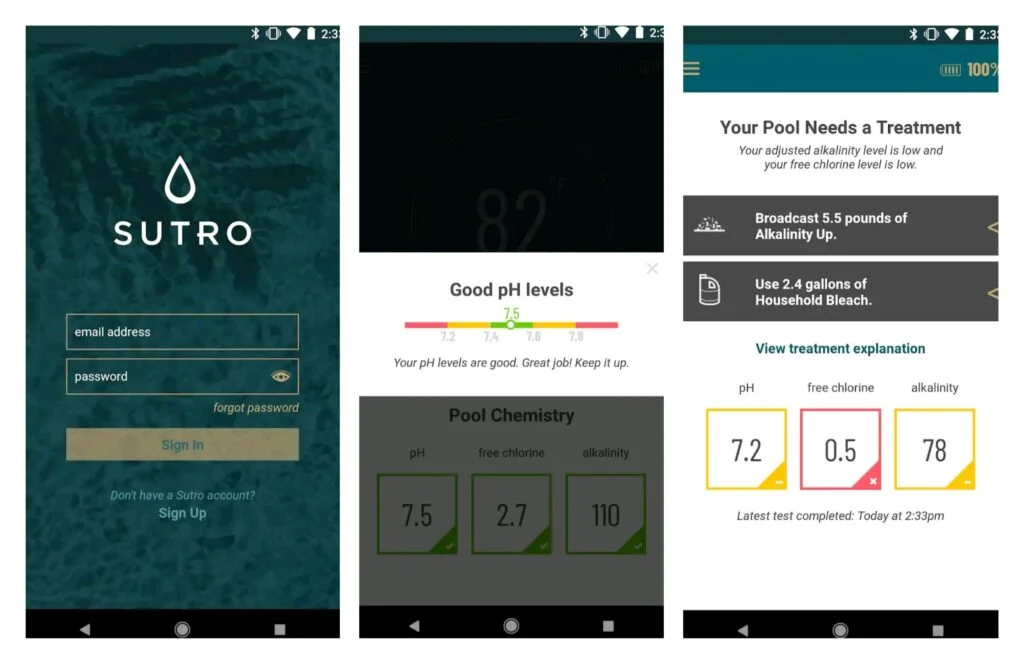 The app notifies you about whether or not your pool water is suited for swimming, and gives recommendations to keep the chemicals in balance. In addition, it also allows you to keep track of your pool chemical levels over past weeks and months.
It also offers a monthly subscription fee service which covers replacement cartridges on demand, premium support and chemical recommendations and also allows the usage of app. This makes it an overall costlier option but one with its own perks.
For an easy selection of plans, we recommend visiting Sutro's official website.
Durability And Maintenance
WaterGuru
The WaterGuru equipment is made of top quality materials, which allows it to last for long periods of time. It is designed to fit perfectly and sit in your pool's skimmer, away from the swimmers which keeps it protected.
The cassette of WaterGuru holds 60 testing pads, which means that one cassette will last you for about 2 months if you test the water daily. The 4 rechargeable C batteries should last for about 6 months. Hence, WaterGuru fares well in terms of durability and ease of maintenance.
Sutro
The monitor of Sutro is relatively large in size, and floats freely in the pool. This means that you will have to be careful while swimming and also keep an eye on the monitor for any damage.
The reagents of Sutro come in a cartridge. They are placed in separate sections in quantities between 3 to 10 microlitres. These reagents can perform 90 tests, and will last for about 1 to 1.5 months before the cartridge needs to be replaced.
Warranty And Customer Support
WaterGuru
WaterGuru Sense comes with a generous 45 days money back warranty, and 1 year replacement warranty.
The customer service of WaterGuru is known to be exceptionally supportive. The customer support representatives are well-equipped with the knowledge of the device and help in troubleshooting, installation and setting up the monitor over calls and emails. Getting in touch with the service team is pretty easy, and can be done via the app as well.
However, when it comes to refunding, the customer services seem to be non-supportive and uninterested. Not only does the process take up to a month, but you might also have to reach out frequently to get the job done, which can be cumbersome.
Sutro
Sutro claims to have an extensive customer support service extending to various platforms. However, users have complained of unavailability of line agents on calls.The responses to emails are not very satisfactory so we suggest calling them, just in case.
Once you have gotten through to the customer care, however, the process of refund or replacement is quicker and more hassle-free as compared to WaterGuru.
The Sutro smart monitor is backed by a 1 year warranty.
Cost And Value For Money
WaterGuru
As compared to most other monitoring systems, WaterGuru retails for a slighty lower price. You can check the latest price by clicking here. Although it covers limited parameters of pool water chemistry, the number of tests included with the package and its longevity makes up for that.
Thus, it offers a good value for the money. In addition, the WaterGuru app does not require any subscription fee which makes it even lighter on the wallet than its competitors.
Sutro
Sutro comes under the category of high-end pool testing systems. It retails for a slightly higher price than WaterGuru. You can check out the latest price from Amazon here but we suggest buying it from their official website and availing a discount of $50 by using the discount code "THEWATERHOBBY".
Although the higher price can be explained by the greater number of parameters tested and better efficiency, the monthly subscription fee is a dent in the wallet and can not be ignored completely. It is for the premium features that Sutro offers that it topped our list of the best automated chemicals monitors out there.
Conclusion- Which One to Buy?
Both WaterGuru and Sutro are marvelous in terms of the perks that they offer. All in all, the Sutro Water Monitor would be the better choice to go with if you are willing to pay the premium. The extra price is well justified, in my opinion, due to the accuracy, quality of reagents and the ease of use.
Another thing to add is the $50 discount being offered at Sutro's official website by using our very own discount code "THEWATERHOBBY", so you are hardly paying any extra to get one of the most premium pool monitors out there.
If you are more interested in conventional test kits and strips, do not make a purchase decision before reading our comparisons of the leading options available today;
WaterGuru and pHin are two of the biggest competitors to Sutro so we fared them up against each other in this in-depth comparison between WaterGuru and pHin.