Intellicenter and EasyTouch along with Screenlogic are two popular pool automation systems by Pentair. While both of them are designed to control and monitor various pool and spa operations, there are a few distinct differences in terms of their functionality.
In this article, we'll compare Intellicenter and EasyTouch with Screenlogic in detail to help you choose the right pool automation system according to your requirements. So let's get right into it!
Pentair Intellicenter vs. Screenlogic
Equipped with innovative technology and advanced features, Intellicenter is Pentair's latest flagship model of pool automation systems. Screenlogic, on the other hand, is an add-on module for EasyTouch, which is an earlier generation of pool automation by Pentair.
To put it simply, Intellicenter and EasyTouch are both pool automation systems by Pentair. However, EasyTouch being a basic system, requires the Screenlogic add-on for extended functionality and easier controlling access. Intellicenter, in contrast, is a standalone system with a complete set of advanced features of its own.
On that note, let's dig a little deeper and find out how these two pool automation systems compare against each other.
User Interface
Intellicenter
The Intellicenter features a colored touchscreen interface that adds a modern and sleek aesthetic to the system, enhancing its visual appeal.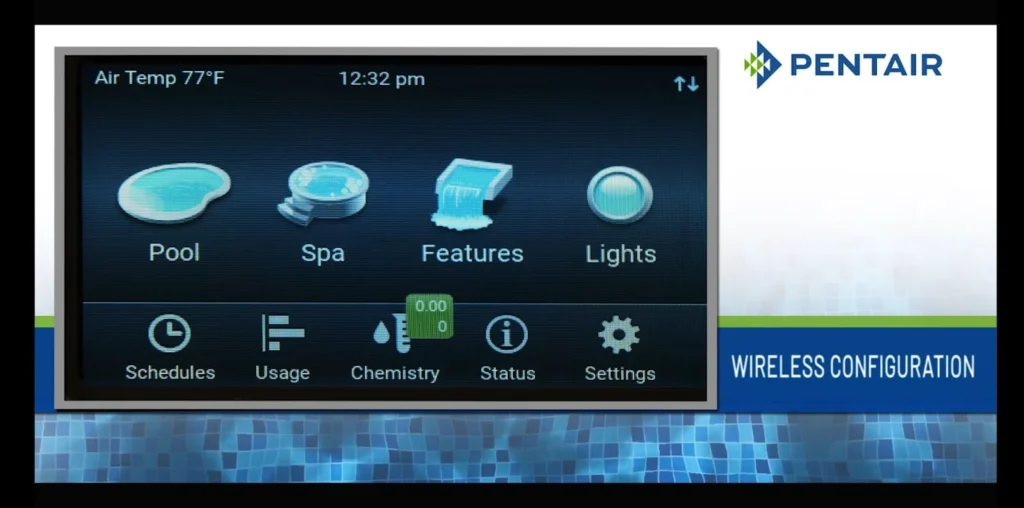 Using the touchscreen display, you can control and modify a wide range of pool functions, including pool pumps, heaters, sanitization, lights, and configuration of customized user profiles without using a separate pool controller.
As much as these features seem promising, there may be a bit of a learning curve for an inexperienced user to understand the advanced features of Intellicenter completely.
EasyTouch
Pentair EasyTouch, on the contrary, requires you to manually press a combination of buttons on the control panel to manage the automation system.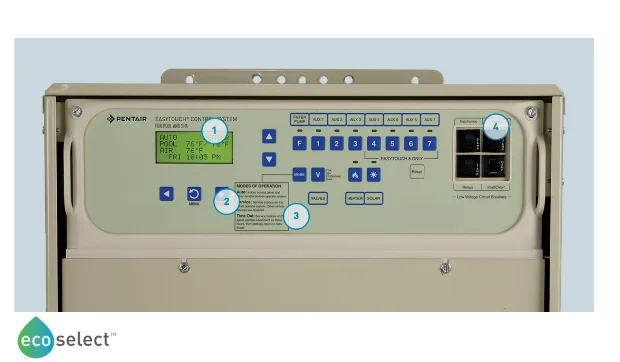 However, with the Screenlogic add-on installed, you can remotely control and monitor your pool via a mobile app or computer. Unlike Intellicenter, the Screenlogic app offers a much easier interface, making the user experience effortless.
System Integration
Intellicenter
The Intellicenter is an independent system that provides access to pool automation, equipment control, and pool monitoring all in one, eliminating the need for any add-on. Since all aspects of the pool can be controlled via the touchscreen display, Intellicenter does not require the use of any controller either.
EasyTouch
In contrast, EasyTouch is a simple pool automation system with limited features. For remote control and monitoring via a mobile application, you'll have to integrate the Screenlogic add-on with the EasyTouch system.
Flexibility for Customization
Intellicenter
Pentair's Intellicenter offers a versatile range of customization options. It supports function with other home automation systems and can be integrated with accessories for expanded functionality.
EasyTouch
On the contrary, the options for upgrades in EasyTouch with Screenlogic are slim. The Screenlogic add-on allows remote controlling and monitoring at most. Other than that, the scalability options are underwhelming. For example, EasyTouch can control four valves only, while Intellicenter allows the addition of several valve circuits at the same time.
Connectivity
Intellicenter
Intellicenter offers flexible connectivity options, including WiFi, Ethernet, and mobile app support. Using these, you can control the pool and spa functions no matter where you are. Additionally, it supports seamless connectivity with Amazon Alexa and Google Home, etc.
EasyTouch
While EasyTouch doesn't support many connectivity options on its own, it allows remote control and monitoring with Screenlogic installed. However, configuring Screenlogic for remote access may require some technical knowledge, which gives Intellicenter an edge for being a standalone system with a complete set of built-in features.
Price Comparison
The prices are subject to volatile changes and vary for different models. Therefore, getting in touch with authorized Pentair dealers or retailers is best to get the latest and most accurate prices. However, after a general comparison, we can conclude there's no significant cost difference between Intellicenter and EasyTouch with Screenlogic.
The Pentair EasyTouch does cost less on its own, but with the Screenlogic add-on, the price goes around $2000-$2500. In contrast, the starting price for Intellicenter is $1900 and can go up to $2600 and beyond. Add to this the installation and contractor costs, and you're in for a $3k+ expenditure for both.
Overall, the advanced features and excellent scalability options of the Intellicenter make it a future proof option and hence, worth the money. Spending on the Screenlogic add-on, on the other hand, can be a good choice if you have the EasyTouch system installed already.
Intellicenter Vs. Screenlogic: Which One Should You Buy?
The verdict is pretty straightforward. If you're building a new pool, the better choice will be Pentair's Intellicenter due to its advanced features and future proof technology, making it definitely more capable than EasyTouch. Click on the link below to check Intellicenters's updated price on Amazon.
However, if you have the EasyTouch installed for your pool, adding on Screenlogic will enhance the pool automation capabilities just as well while providing sufficient functionality to remotely control your pool settings without spending a fortune. Click on the link below to check its updated price on Amazon.
If you are in search of the perfect automated pool chemicals monitor, you should definitely check out these comparison articles of ours between the most popular options: