Maintaining optimal water chemistry in the pool can be challenging without the right water testing system. If you're a pool owner, you must've come across the names of WaterGuru and pHin, which are popular devices for pool water monitoring.
These automatic water testing systems help to regulate the chemical balance in the pool. But do they offer reliable performance? We'll find out all that and more as we move forward. By the end of this article, we'll also introduce a bonus option worth considering for those seeking a reliable pool chemical automation system.
We also made a comparison betwen WaterGuru and MySutro, two of the most popular options out there. Among the three of these, Sutro easily takes the lead, so I would recommend you check out this comparison too.
Let's delve in to the comparison!
Water Parameters Measured
WaterGuru
WaterGuru is designed to monitor and balance four types of water parameters. It measures free chlorine, acidity (pH), temperature, and the flow of water in the pool. If you want in-depth testing, you can make an additional purchase of the WaterGuru test kit for ten bucks and get a lab-grade water analysis. The test kit measures total alkalinity (TA), cyanuric acid, calcium hardness, and phosphates, etc.
pHin
pHin, on the other hand, measures the pH level, sanitizer concentration, and temperature of the pool. The first year of the free pHin Monitoring Service provides data for total alkalinity, total hardness, and cyanuric acid.
After that, you can purchase the monitoring service for a detailed analysis of your pool water. However, since pHin is discontinued, future updates and support are limited.
Accuracy
WaterGuru
WateGuru uses sensing pads to measure water chemistry. The color changes in these pads are detected by optical sensors, designed to register the smallest changes in the colors.
While WaterGuru claims to provide precise readings, the actual accuracy of the system is not completely reliable. Most users are not satisfied with the results provided by WaterGuru. A few claim that professional water testing services or authentic water testing kits can prove its inaccuracy:

While others argue that the function of sensing pads is similar to test strips and hence, unreliable.
pHin
On the contrary, pHin uses ORP (Oxidation Reduction Potential) to take its measurements, which again is not the most reliable method for pool water analysis. Still, the results with pHin are fairly accurate and consistent as compared to WaterGuru, leaving most users satisfied with its performance. However, it is a discontinued system, so looking for an alternative is best.
Personalized Recommendations
WaterGuru
WaterGuru Sense offers water treatment advice based on the water chemistry in your pool. The recommendations are based on a complete analysis of the pool water daily and allow you to take the required action to balance the pool water chemistry accordingly.
pHin
Likewise, pHin also provides customized recommendations. It takes over 1000 measurements of the water parameters each week and provides advice based on the unique averages of your pool, which can help you maintain it in an ideal state.
Pricing
WaterGuru
In terms of price, both WaterGuru and pHin are close competitors. WaterGuru Sense will cost you around $260, and thankfully, it's not accompanied by any additional subscription charges. However, it does require you to spend on the refill cartridges from time to time. This replacement adds an additional expense of 125 bucks every 8-10 months on average, as each refill cassette lasts around 8 weeks.
pHin
The pHin water monitor, in contrast, is priced at $297 with a free monitoring service for the first year. The subscription for the monitoring service costs $99 each year after the first one. However, pHin is a discontinued product making this information outdated and unsuitable for comparison with WaterGuru.
Mobile Application
Both WaterGuru and pHin come with a mobile application that allows you to monitor your pool water chemistry remotely at all times, provided it is connected to a stable internet connection. Here's how that WaterGuru Sense app looks like: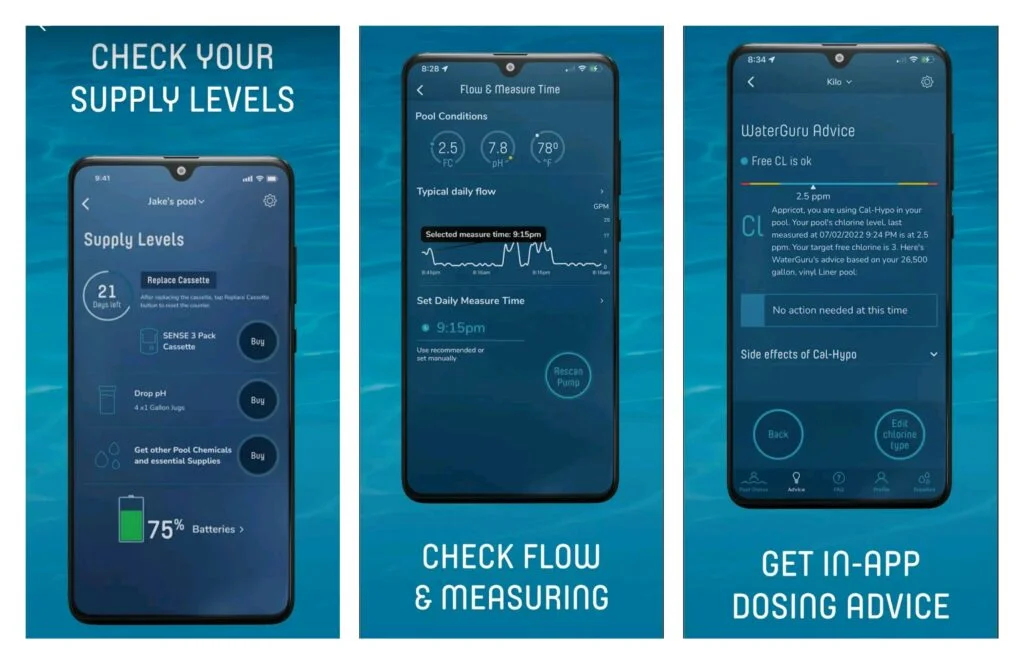 And here's how that pHin app looks like: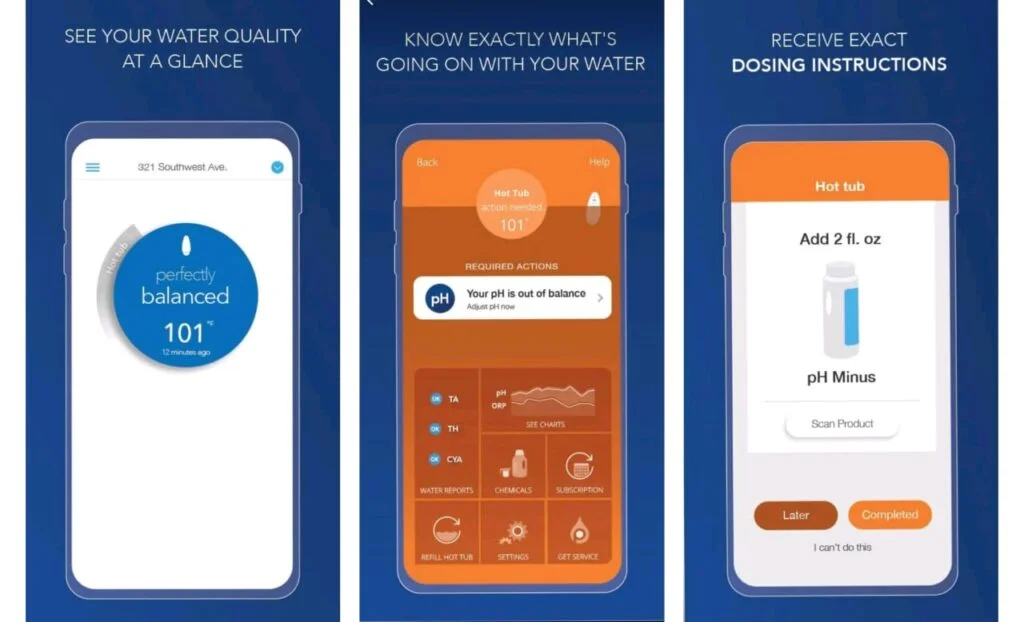 Both their apps are designed to send alerts whenever the water parameters are out of balance and require adjustment. In addition, the stored track record in the apps allows them to create customized recommendations for chemical adjustment according to different pool conditions.
Installation
WaterGuru
Setting up WaterGuru Sense and pHin water monitor is a breeze. In the case of WaterGuru, you need to place the device on the skimmer and then pair the app with the device via Bluetooth. Once that's done, the application will walk you through the remaining process of forming a WiFi connection to begin water monitoring.
pHin
Similarly, you can install pHin by placing the smart monitor device in the pool and syncing it with the mobile app over Bluetooth. After that, you can easily connect it to WiFi to initiate regular water monitoring.
Customer Support
WaterGuru
The customer support offered by WaterGuru is, let's just say, not terrific. The company is not responsive, especially when it comes to complaints. For general queries, you can get in touch with their team for sure, but in case you're looking for after-sales support, you're in for some hassle.
Here's one of the many customers complaining about WaterGuru's customer support:
pHin
pHin, on the other hand, boasts a decent reputation when it comes to customer support. While the company was up and running, it offered quick replacements and timely responses. Before shutting down, pHin offered refunds for subscriptions to all their customers as well.
Conclusion- Which One to Buy?
All in all, I would not recommend buying either of these two pool chemical monitors. WaterGuru does not support completely accurate readings and the after-sales support is not that good too. pHin has been discontinued and can not be recommended for obvious reasons.
If you are in the market for a pool chemical monitor that ticks all the right boxes, MySutro by Sutro is a worthy candidate. Read my two cents about it below.
Best Pool Chemical Automation System: MySutro
MySutro by Sutro is an excellent option if you're hunting for a reliable pool monitoring system that helps you regulate your pool water chemistry. It works with salt, chlorine, bromine, mineral pools and spas.
MySutro is one of the few pool monitoring systems that measure alkalinity. It has a stellar reputation for providing accurate readings by liquid reagent testing.
In contrast to the patented optical technology of WaterGuru and ORP testing of pHin, the colorimetric-based testing using La Motte reagents in MySutro provides far more accurate results
The app is not only better looking but also much more easy to use. Have a look for yourself: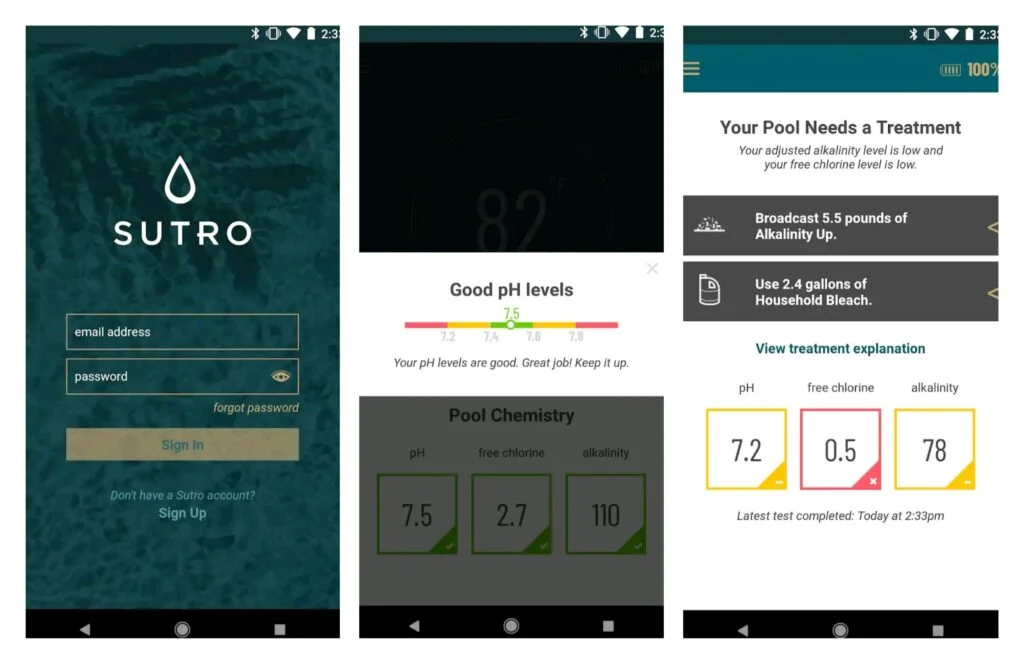 Here's what a user had to say about Sutro:

The customer support is pretty impressive too. The price, however, is significantly higher than WaterGuru or pHin. MySutro will cost you around $499 plus subscription charges. You can, however, avail a discount of $50 by using the discount code "THEWATERHOBBY", if your buy it from their official website.
Most users consider the device worth the cost, keeping in view the accuracy of results and chemical regulation it provides. MySutro was also leaps ahead of both WaterGuru and pHin when we put them head to head against each other in these in-depth comparisons of ours:
You might also want to check out our comparisons between the most popular, traditional test strips: