While hot tubs are an excellent way to relax after a long day, their maintenance and upkeep can be quite tedious. With little negligence, hot tubs can quickly become a breeding ground for bacteria and can cause several health problems.
Water monitoring systems ensure the safety of hot tubs by automatically monitoring the water parameters and allowing you to maintain them without much hassle. 
Moving forward, you'll find the 4 best hot tub monitoring systems that measure the important water parameters and allow you to remotely monitor the water balance via mobile applications. 
The Best Four Hot Tub Monitoring Systems
1. Sutro Water Monitoring System
Key Features
Multiple Sensors to Measure Water Parameters 
Supported by Mobile Application
Offers Regular Alerts
Compatible with Most Hot Tubs
Rechargeable Batteries
Subscription Required
Check the Updated Price from Sutro's Official Website (Use discount code "THEWATERHOBBY" for $50 off)
The Sutro water monitoring system is our top pick for all the right reasons. If you're looking for an easy-to-use device that provides reliable readings, the Sutro water monitoring system will be an excellent choice for you.
This device allows you to keep a constant check on the water quality and parameters in your hot tub. It measures the pH levels, temperature, chlorine, and bromine concentration in the water with an accuracy far better than manual testing. 
The Sutro App that integrates seamlessly with the device is also a blessing to have. It cleverly and aesthetically displays all of the above-mentioned information. The ease of use and versatility are second to none.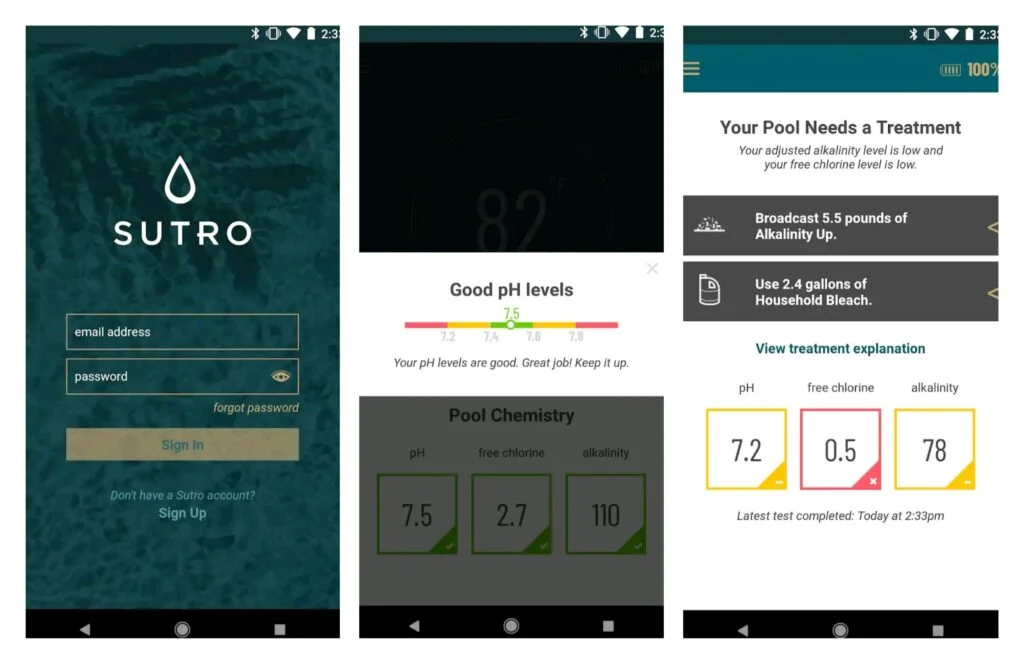 This water monitoring system functions with the help of multiple sensors, which detect alkalinity, temperature, etc., in the hot tub. When the water parameters in your hot tub are off, the Sutro mobile app sends immediate alerts, making it easy to restore the water parameters before they become entirely unsuitable for you.
The automatic monitoring of water quality eliminates the guesswork and the hassle of checking the water balance before stepping into the hot tub each time. It also helps to identify the adequate amount of chemicals required to restore the water parameters. 
As much as we love this water monitoring system, we cannot deny that it is more expensive than most water monitoring systems in the market. But given the reliable performance of this device, user-friendly application, immediate alerts, and ease of use, you'll find it worth the money.
You might also want to buy it from their official store because of the authenticity of the product, and you can also avail a discount of $50 by using our code "THEWATERHOBBY"
Pros
Easy to install and use
Provides accurate readings
It saves a lot of time by eliminating the hassle of manually testing the water
Offers timely alerts
Cons
Expensive monthly subscription 
2. Water Guru Sense Hot Tub Monitoring System 
Key Features
Supported by mobile application 
Offers On-Demand Testing
Automated water imbalance detection sensors
No subscription required
Another fantastic device that allows you to handle the pool water parameters automatically is this Waterguru Sense monitoring system. 
This device is compatible with both fresh and saltwater systems. You can track the pH level, temperature, and chlorine concentration in your hot tub with just the touch of a button.
The Waterguru Sense is supported by a mobile application (both iOS and Android compatible), which you can use to keep an eye on the water balance in your tub occasionally.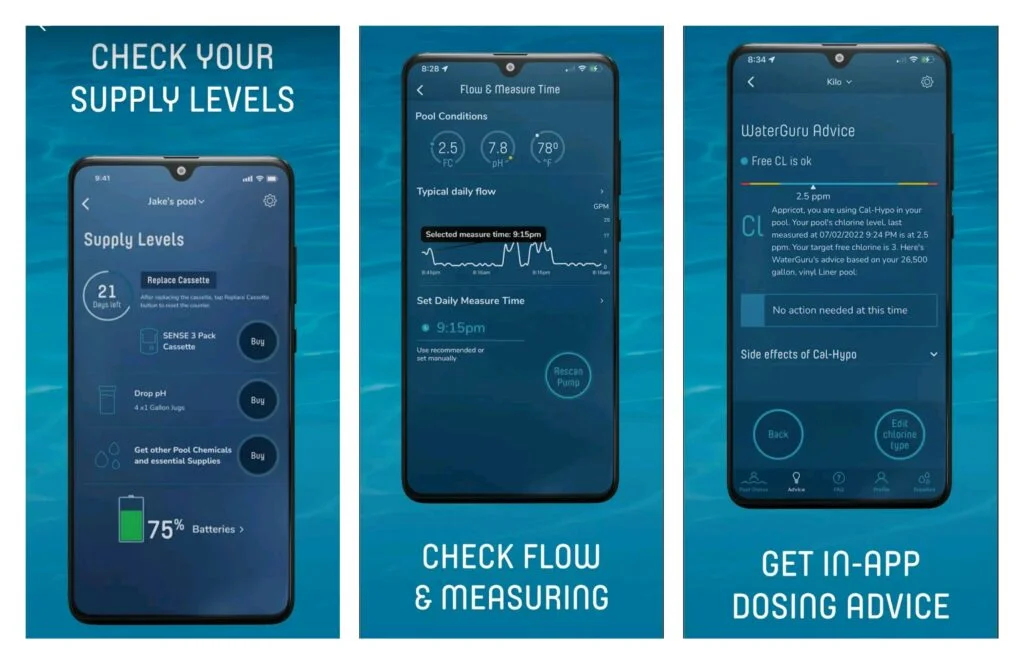 This monitoring system features various sensors that detect any imbalances in the concentration of water chemicals or temperature, and alerts you via the app. Apart from water chemicals, Waterguru Sense is also capable of monitoring the water flow in the tub's circulation system. 
Another great feature of this device is the on demand testing system, which allows you to check the water parameters anytime and get an updated water quality report. However, I'd rather not rave about this feature because the testing and report generation takes quite a while. And so we found the waiting time particularly annoying. 
The installation of Water Guru Sense is pretty simple. Once you have set it up, just download the application for a seamless water monitoring system. Overall, with its accurate readings and helpful advice to keep the pool up and running, the Waterguru Sense is a life saver.
We made an entire dedicated comparsion between Sutro and WaterGuru. You might want to check it out, if you can not decide between these two.
Pros
Inexpensive in contrast to other water monitoring systems
Automated water chemicals detection
Offers on-demand testing
Uncomplicated with basic functions
Cons
On demand testing takes 20-25 minutes to complete
Does not support in depth testing
3. IOPool Smart Water Monitor
Key Features
Comes with a 2 Year Warranty
Free IoPool Application 
No subscription required 
Compatible with pools, hot tubs, and swim spas
The smart water monitoring system by IoPool makes pool maintenance much less of a hassle. It offers a regular water parameter monitoring that allows you to keep the water balance maintained at all times.
This device is designed to measure pH level, ORP or disinfection capacity, and water temperature. The free IoPool application provides real time readings for your pool water conditions as it updates the results every 15 minutes.
Based on the collected data, the application also provides personalized recommendations according to your pool water chemistry. 
Using this smart water system, you can also identify when and how much pool treatment chemicals you should introduce in the water. This automated system supports Bluetooth and WiFi connection, which means you can remotely manage your pool even when you're away. 
All in all, this smart water system is a good deal for the price. While its incompatibility with saltwater systems is a bummer, one cannot deny its excellent performance and functionality, that too without any additional subscription costs.
Pros
Requires no subscription 
User friendly 
Accurate and reliable readings
Offers a 30-day money back guarantee 
Cons
Incompatible with salt water systems
4. pHin Smart Water Care Monitor
Key Features
Compatible with Alexa
Reliable chemical dosing instructions
Tests for total alkalinity, total hardness, and cyanuric acid
Provides water history charts
Includes 1 year free monitoring service 
pHin is yet another great water monitoring system that is designed to keep track of the water parameters in a pool. According to pHin, this smart water monitoring system takes around a thousand readings each week. 
With pHin, you can monitor the pH level, sanitizer level, and temperature of your hot tub. A constant monitoring of the hot tub helps you maintain the ideal water chemistry in your hot tub. The innovative system of pHin also offers customized recommendations according to your hot tub's unique averages. 
The user interface of the pHin application is quite impressive. The varying pH and chemical levels are represented by color coded graphs. The app offers a 90 day history as well. The hourly water chemistry report may be overkill for most people, but it is there nevertheless and we can't complain.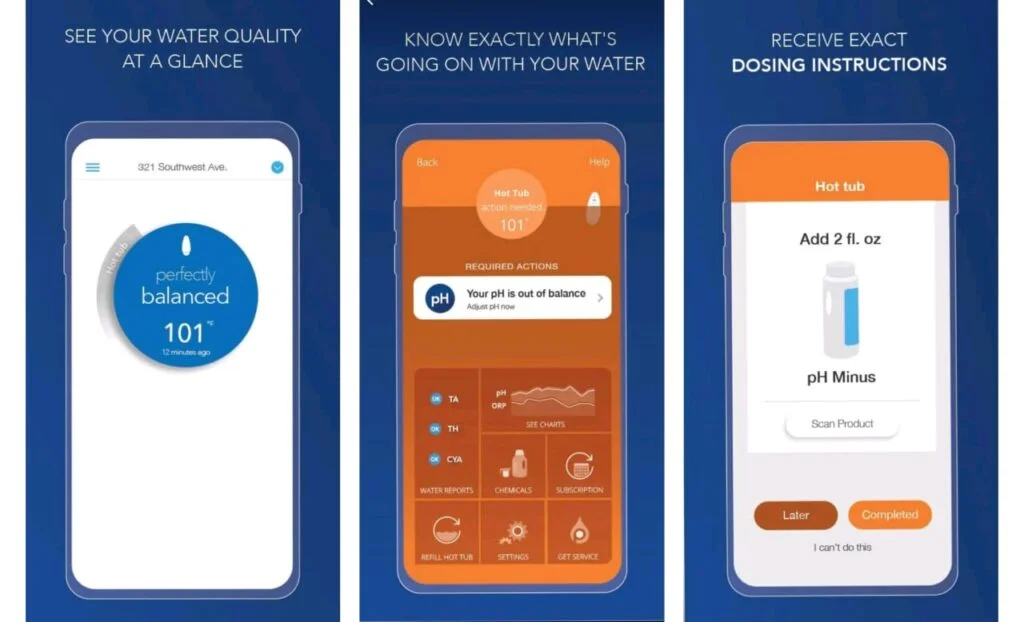 The app notifies whenever the water chemistry is disturbed so you get the chance to treat it immediately. This smart water system is compatible with Alexa and has a straightforward installation process. 
Price wise, it is not a bargain, to be fair. However, it comes with a 1 year free subscription.
After that, you can purchase a $99 annual subscription, which comes with the added benefit of having a free replacement if your device fails. While the expense may seem quite a lot upfront, the device will save you money in the long run and is a decent choice if you're an avid hot tub or pool enthusiast. 
We made an entire dedicated comparsion between Sutro and pHin. You might want to check it out, if you can not decide between these two.
Pros
Easy to install
Provides accurate readings
Alerts when pool water needs attention 
Provides an in depth chemical database
Cons
Incompatible with assistants other than Alexa
Final Verdict- Which One to Buy?
A water monitoring system is a worthwhile investment for hot tub owners. The aforementioned water monitoring systems are reliable and provide accurate readings with smart features like personalized hot tub recommendations and regular alerts.
Sutro monitoring system is, by far, the most reliable and versatile. Keeping in view your preferences, you can choose the best hot tub monitoring system for yourself too.
If you liked this product recommendations list, check out some of our helpful hot tub guides: