As a part of NPT's line of pool finishes, StoneScapes includes pebble-based aggregate finishes alongside other finishes like JewelScapes and QuartzScapes. The Mini Pebble series is a considerably, if not the most, popular branch from the StoneScapes series.
Being available in a great variety of hues, these mini pebble finishes are resilient, come with a decent warranty while giving some of the smoothest of feels.
For further advice on the matter, or even a personalized quote, hit up our trusted service partners by dialing 888-503-2011.
Introduction
For most of the finish choices available for a small residential oasis, StoneScapes Mini Pebble series has surged to fame in the past few years. Have a look at the popularity charts from Google Trends: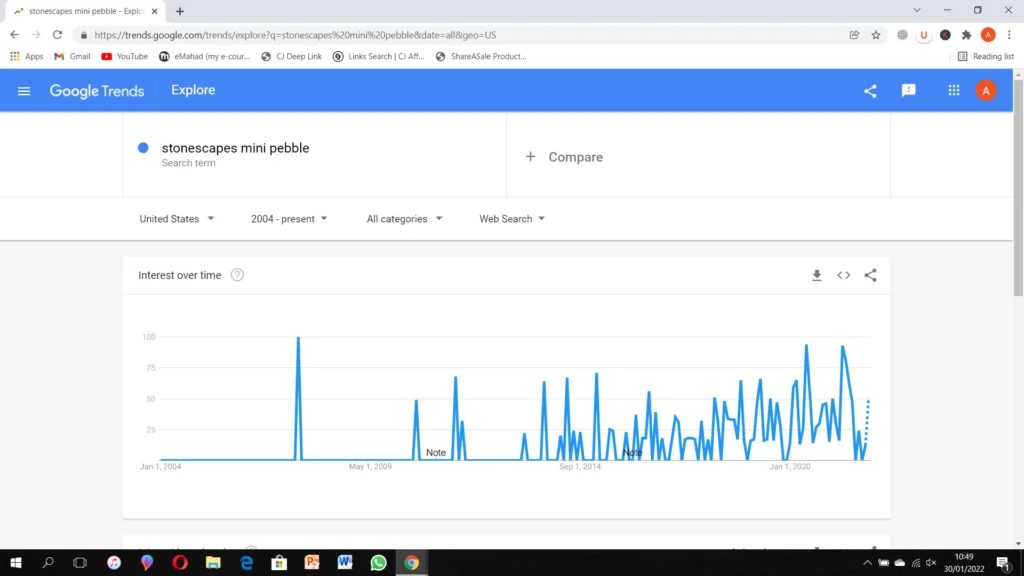 And when one considers the attributes, we can't help but say the rise was destined. Mini pebbles are designed to turn your pool into a dreamy haven that reflects its natural counterpart. 
Here is a review that will let you know everything you need about the StoneScapes Mini Pebble series, all in a bite-sized read. 
Feel to the Touch
StoneScapes Mini Pebble is known for being smooth, especially if you compare it with the regular pebble finishes. These Mini Pebble finishes are mostly designated to be softer on the hands, feet, and swimwear too. Therefore, scrapes would hardly ever be an occurrence.
A word of caution, though: most of the time, this smoothness may be directly dependent on the pool builder. So it will always be wise to hire a contractor that knows his art. If a Mini Pebble pool lets you down in the feel-to-the-touch aspect, the best guess is that it probably has something to do with the installation.
Slight scraping and wearing may still occur if playing around is taken into account. Otherwise, standing, walking, or sitting should be absolutely fine.
Abalone shells in many of the finishes are also a great contributing factor to the smooth feel typically associated with StoneScapes Mini Pebble finishes.
Available Colors
For further advice on the matter, or even a personalized quote, hit up our trusted service partners by dialing 888-503-2011.
Tropics Blue 
Aesthetically speaking, Tropics Blue's distinctive dark blue shade of water is a sensation. Tropics Blue Mini Pebble is a combination of dark blue-tinted white Portland cement with quartz pebble aggregates of white, gold, and black colouring.
It is one of the darker shades of blue alongside my personal favorite, the Midnight Blue and this is where the choice gets interesting. We have a complete comparison titled Tropics Blue vs Midnight Blue to help you decide between these two.
Furthermore, you get a speciality blend of abalone shells and quartz highlights to add to the magnificence while they are also taking care of the smoothness. Here are two gorgeous examples: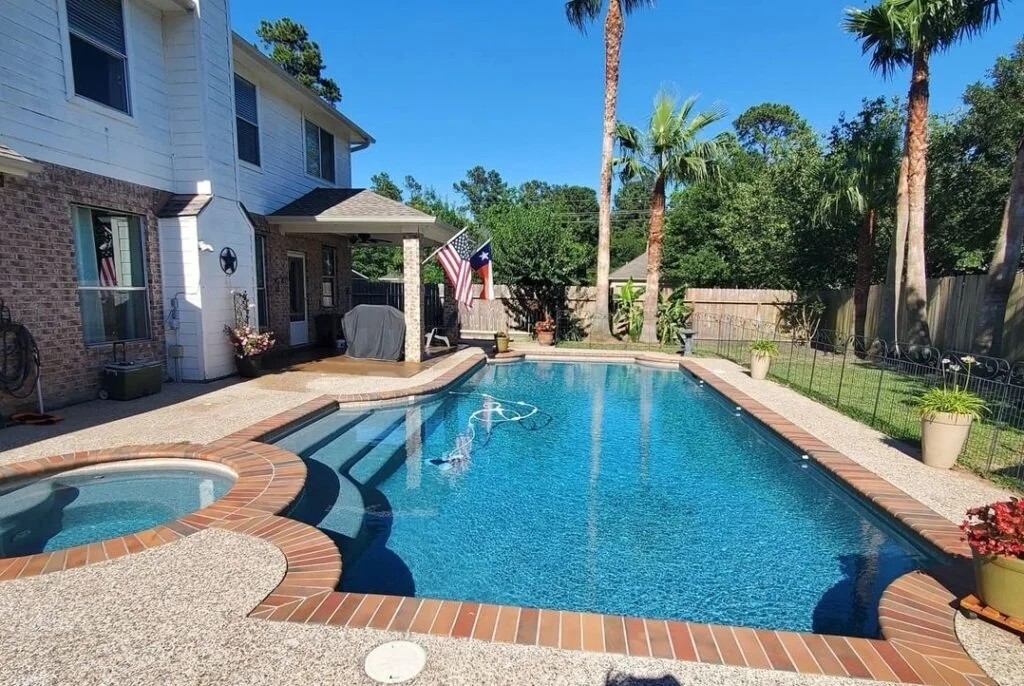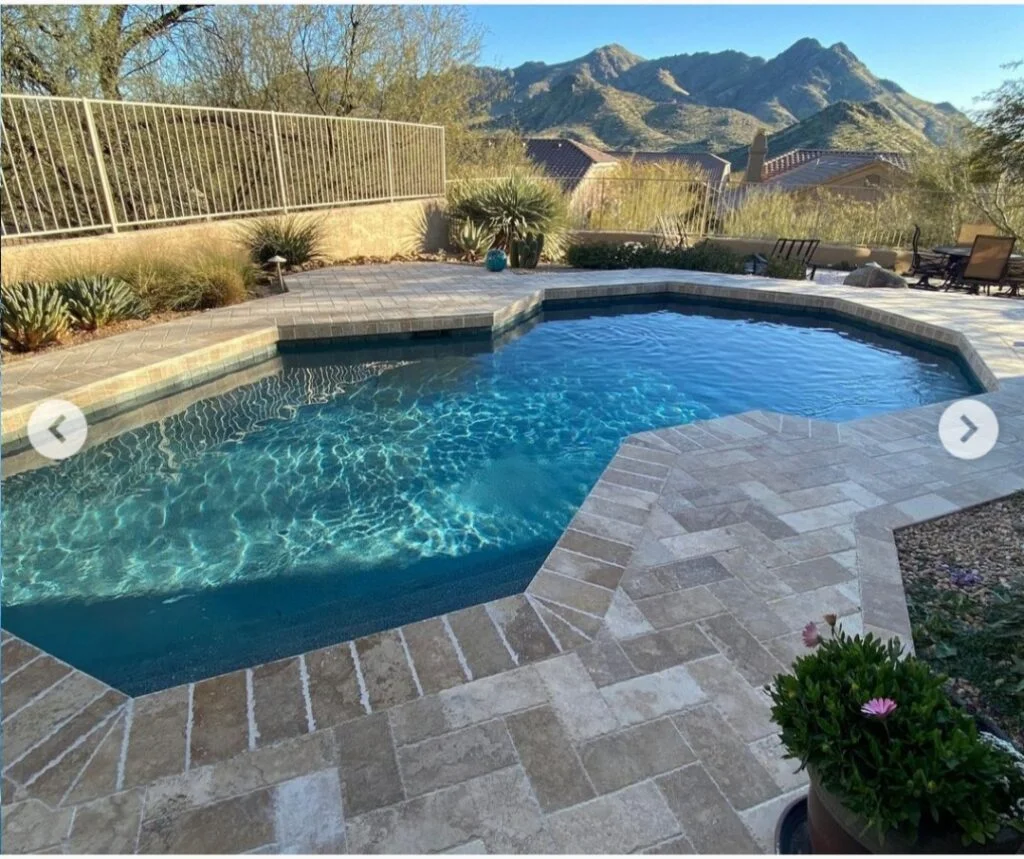 We decided to answer the age old question of whether this one looks better than the Tahoe Blue in this comparison of ours: Tropics Blue vs. Tahoe Blue.
Tahoe Blue 
As the most popular shade on the scale, Tahoe Blue gives off medium blue-green water and is perfect for people who would prefer a bit of turquoise in the water. One can not help but notice the striking resemblance to the crux of Lake Tahoe.
And if you're concerned about a rather notorious resemblance, then no, not the "algae green". But a rather ethereal one, courtesy of the blue-grey white pigmented Portland cement with gold and black quartz aggregates. Have a look!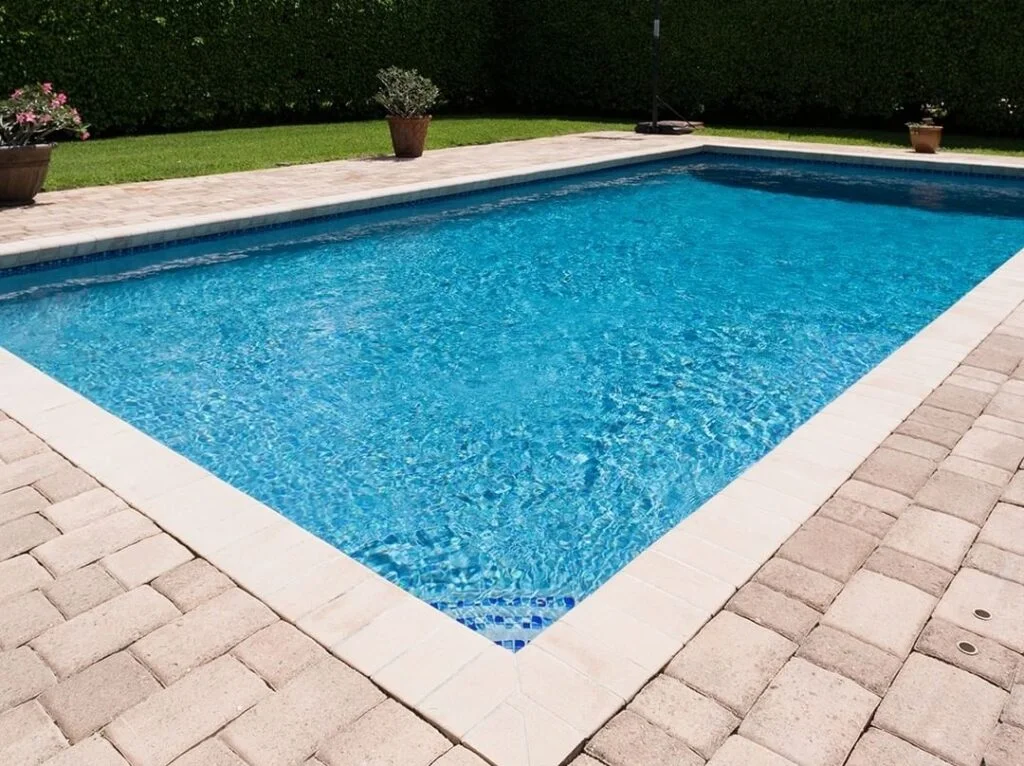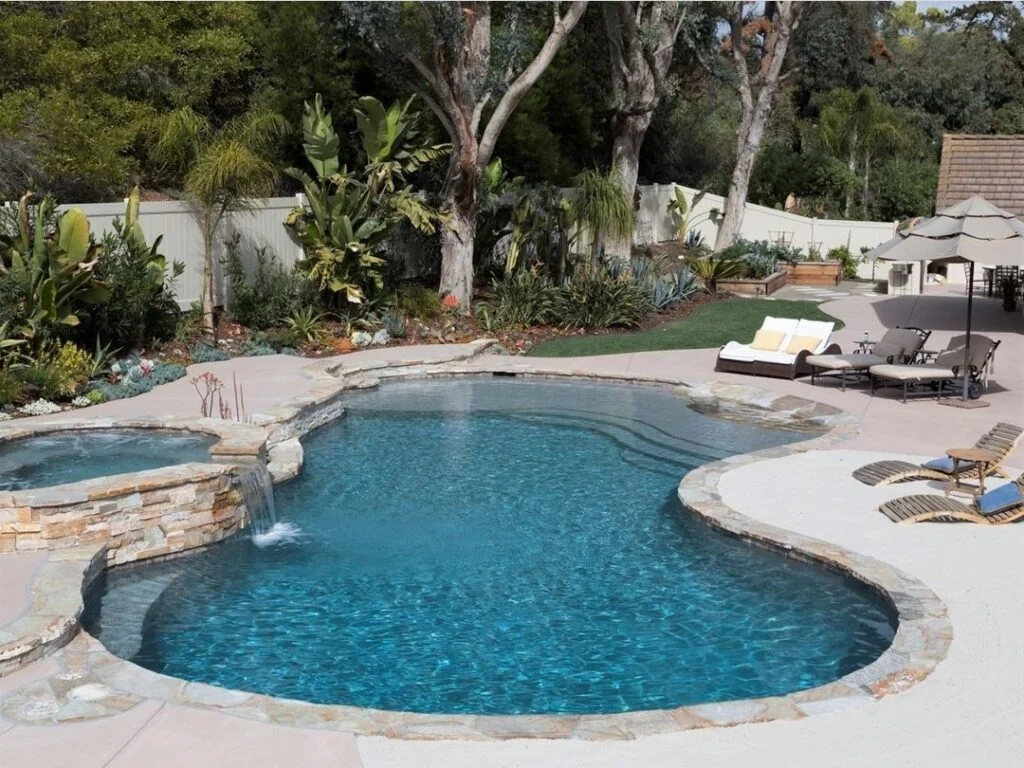 To see how it fares up against the Tropics Blue, read our comparison: Tropics Blue vs. Tahoe Blue.
Midnight Blue 
Like the Tropics Blue, Midnight Blue also surfaces a dark blue color, only darker. The water also has a darker bluish-greenish tint. This punchy shade is a personal favorite of mine.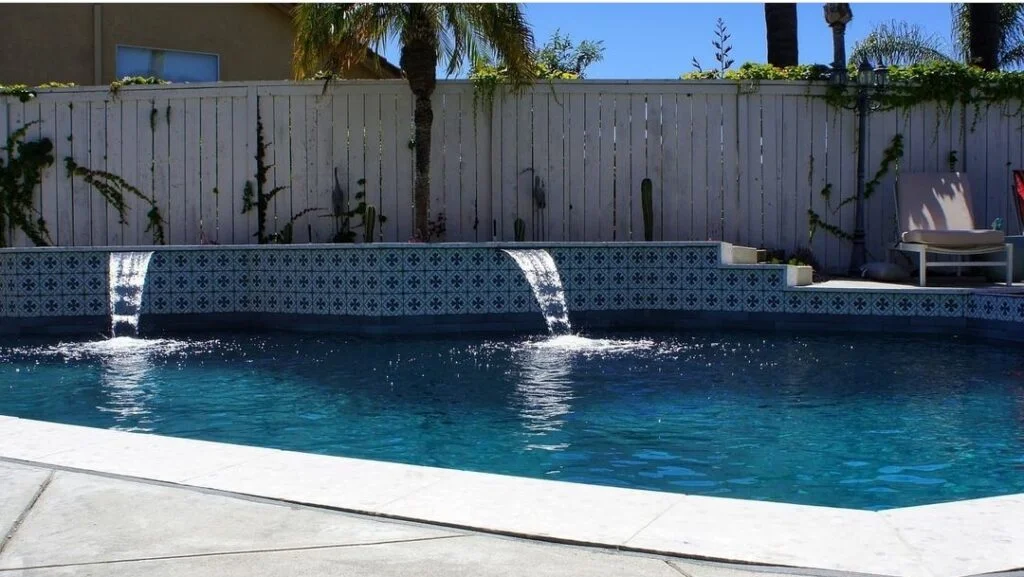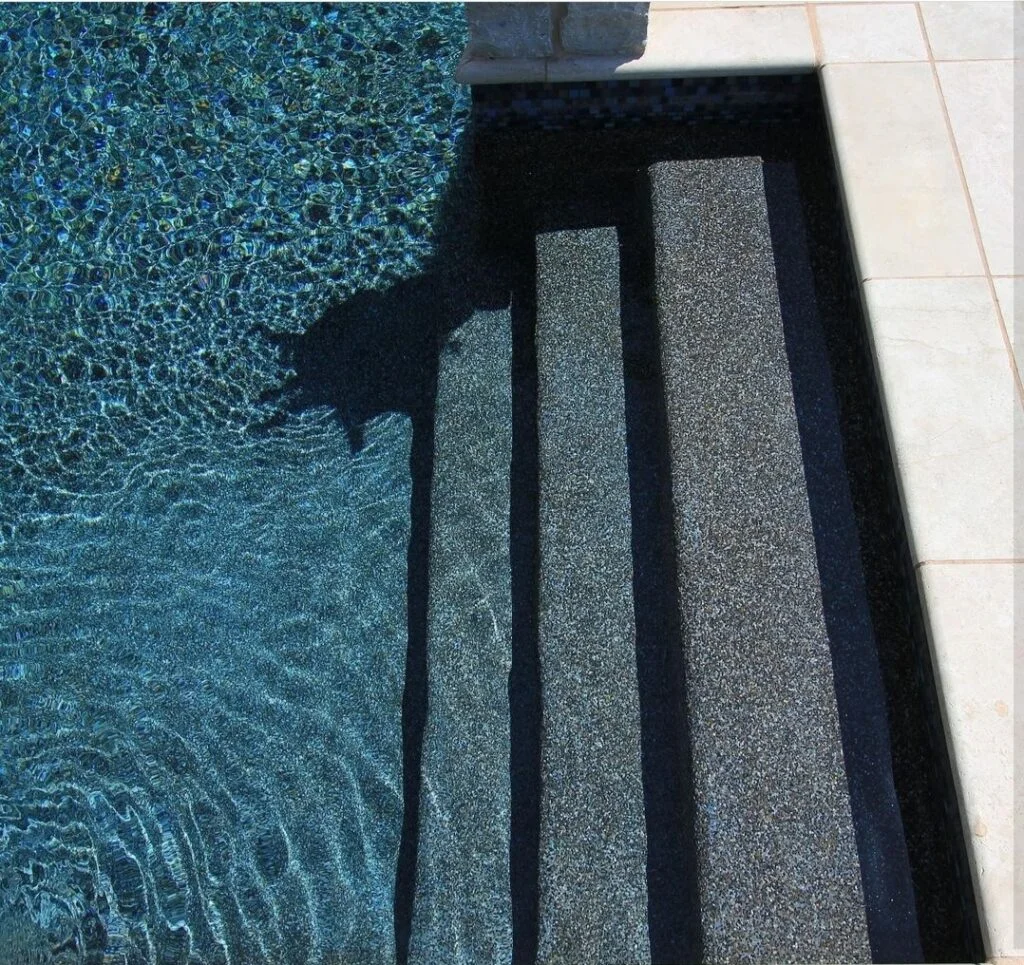 StoneScapes Midnight Blue Mini Pebble is assembled out of midnight blue dyed white Portland cement, with the signature gold, black, and white natural quartz, and special highlights composed with quartz as well.
Between the darker shades of Midnight Blue and tropics blue, the choice can get pretty difficult for a lot of people so we made an in-depth comparison, titled Tropics Blue vs Midnight Blue.
Caribbean Blue
Caribbean Blue Mini Pebble finish is another one of the medium blue-tinted finishes that can give you an oceanic feel. This is quite similar to the Tahoe blue with shades ranging from blue to a medium blue-green but it is a bit lighter and, well, bluer. I, personally, am not a huge fan.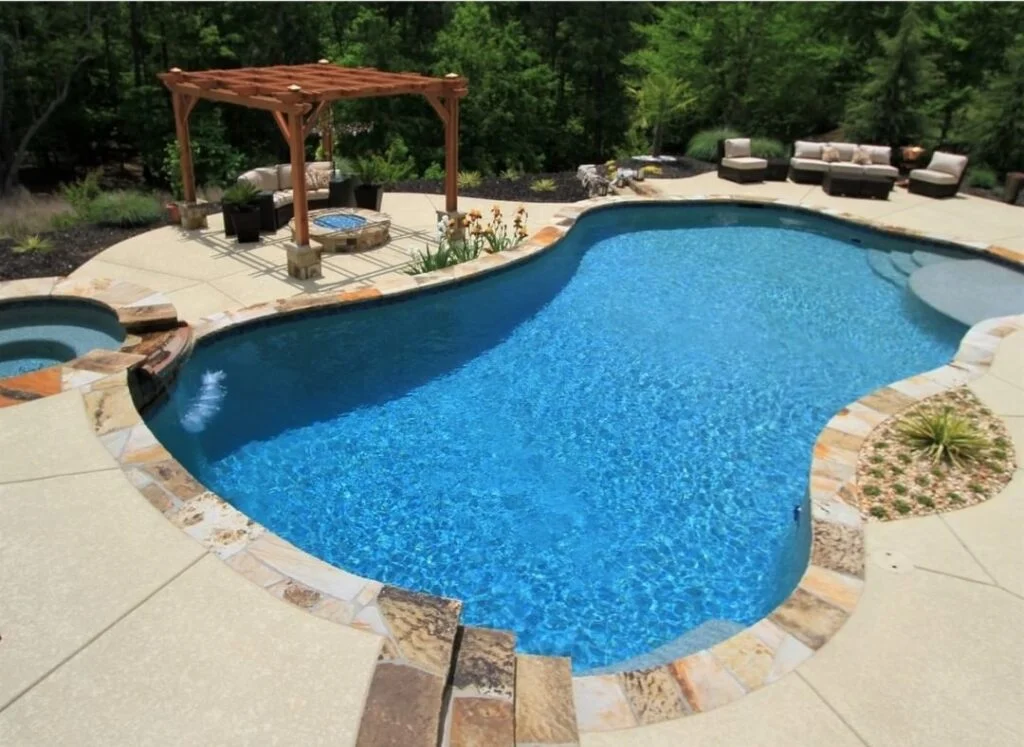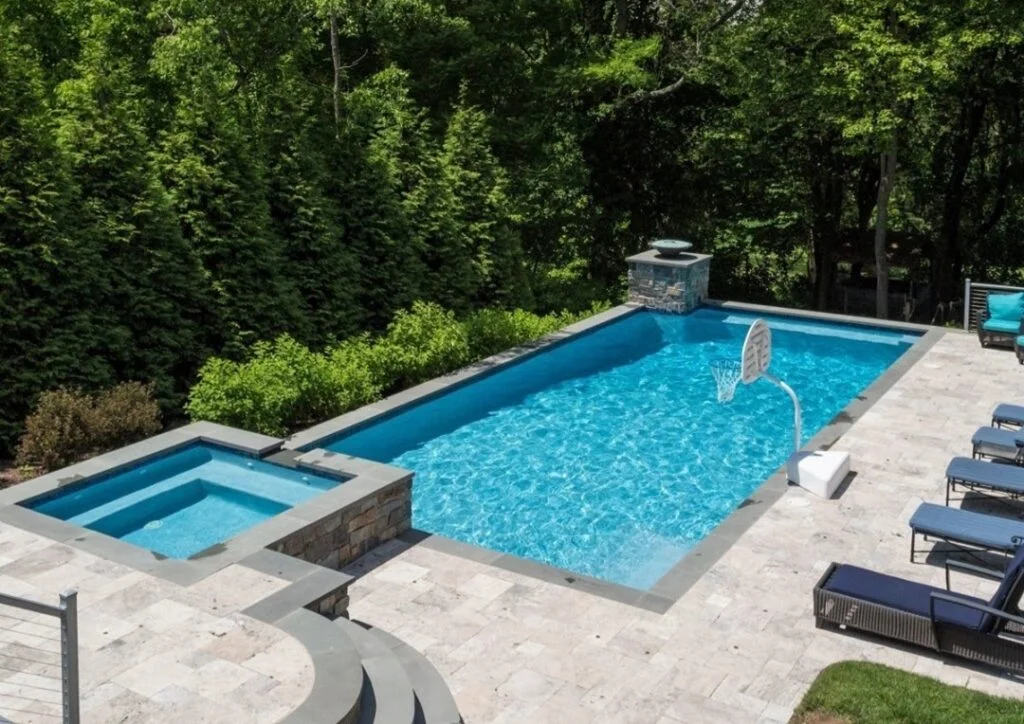 The chief ingredients in creating this calming shade of blue include a touch of blue-gray-toned white Portland cement and a handful of gold and black quartz pebble aggregates.
Aqua Blue 
Aqua blue is one of the shades that delivers the purest of blues in the list; purest, but also brilliant. The blue is distinct, and the mini pebble finish is a complimentary mix of aqua blue pigmented cement and features natural black, gold, and white quartz pebble aggregates.
In addition, you have the characteristic gold, white and black aggregates of quartz. I love the fact that you can also highly customize the hue in this finish. We also did an in-depth comparison titled Aqua Blue Vs Aqua White Mini Pebble.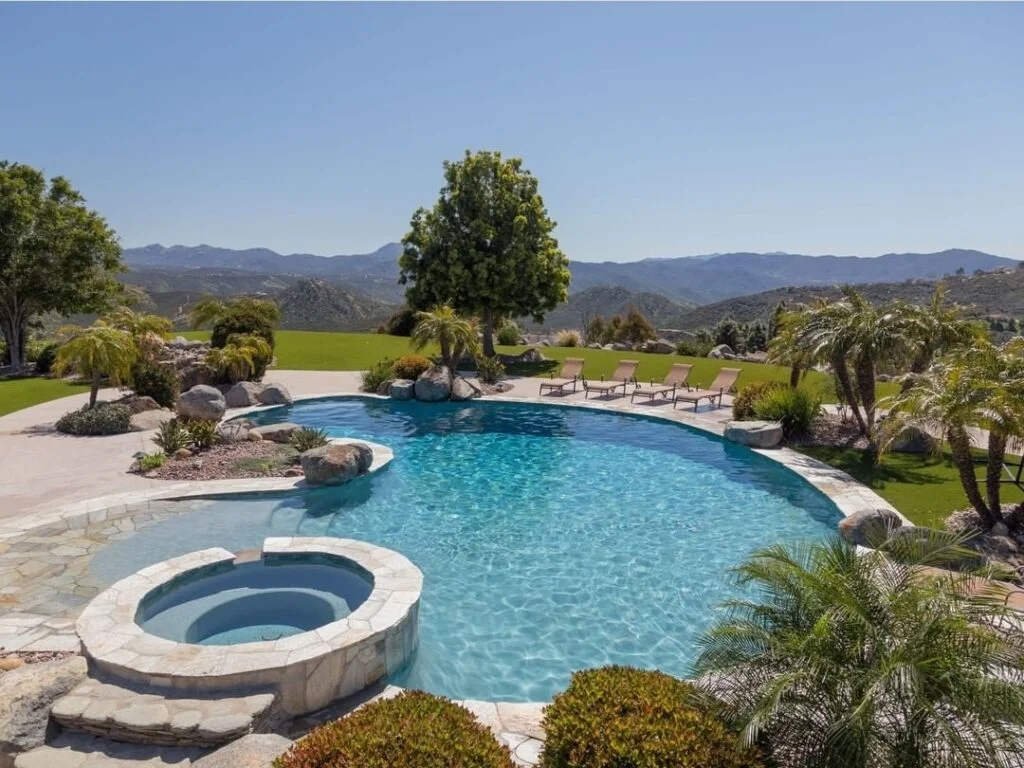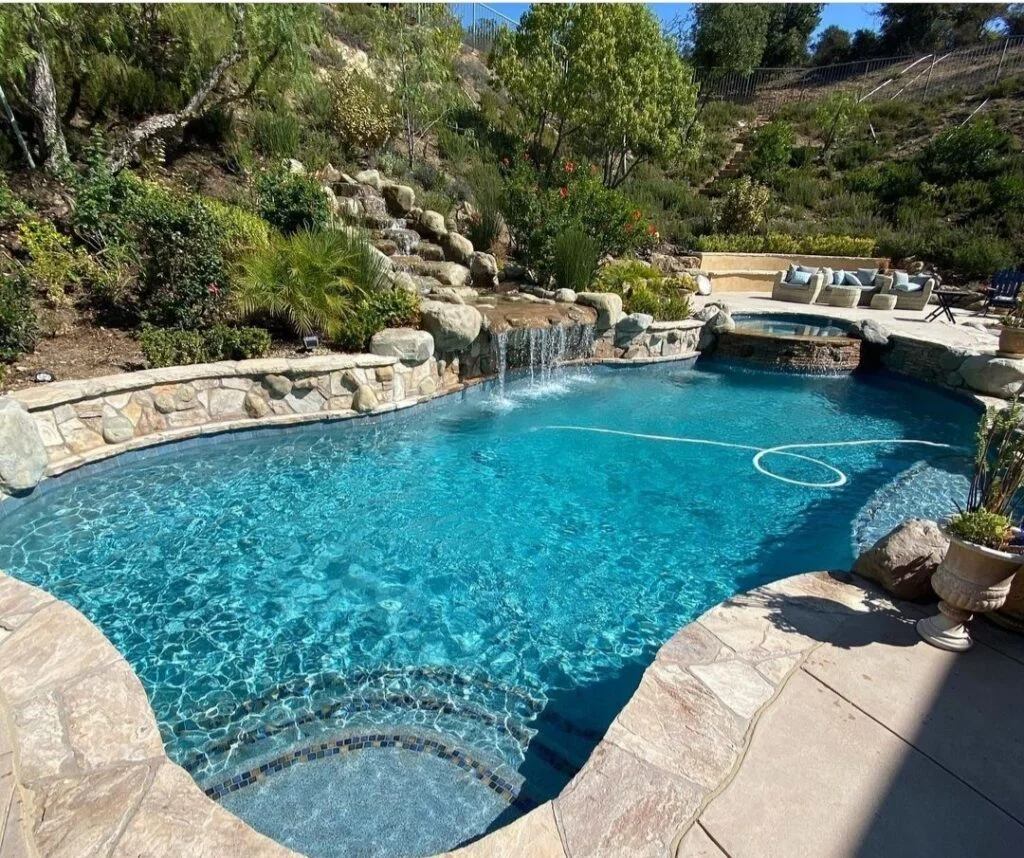 Aqua White
Aqua white gives off a medium blue color but it is slightly lighter than the previous ones. Like the one before, it is also made of aqua blue-tinted Portland cement, however, it has white quartz aggregates, making it a softer shade.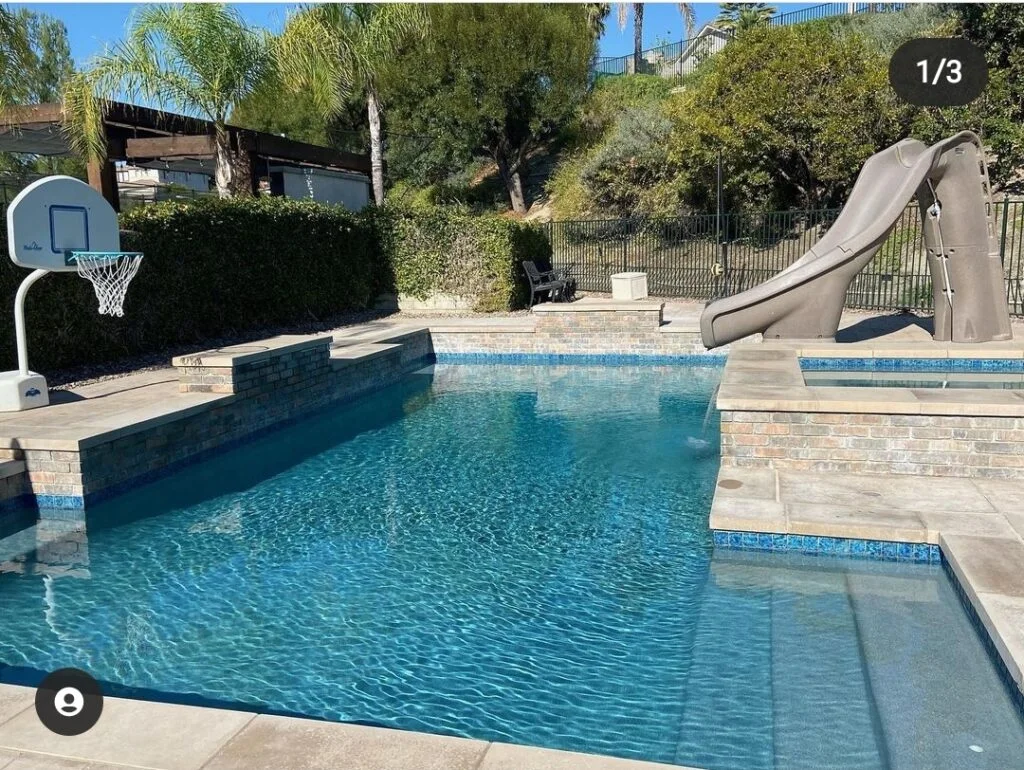 This hue has a hint of coolness that is especially inviting and give off a feel similar to clean and fresh waterfalls. Check out our in-depth comparison against its bluer counterpart, titled Aqua Blue Vs Aqua White Mini Pebble.
Black 
This finish is not for everyone. The Black Mini Pebble is a sight to behold. With Black Mini Pebble, you can pretty much forget about keeping the water clean as it transmits, pretty much, nothing.
With, appropriate lighting, Black Mini Pebble especially comes to life at night and it is spectacular to look at. Have a look at this marvelous example!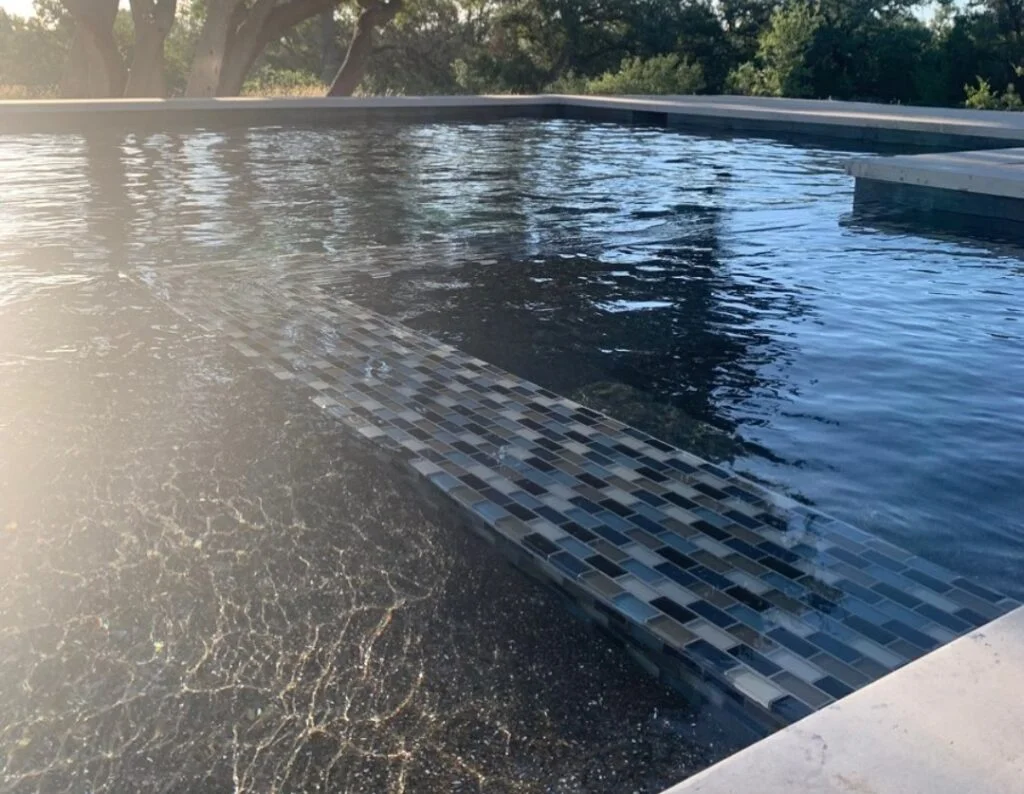 For the aesthetics reasons alone, we granted this bad boy a spot on our list of best color pool finishes. But why mention it so late, you might ask. It is simply because it can be, at time, too much for most. The lack of popularity for this finish testifies to that. I urge you to look at these few examples and give this finish a chance.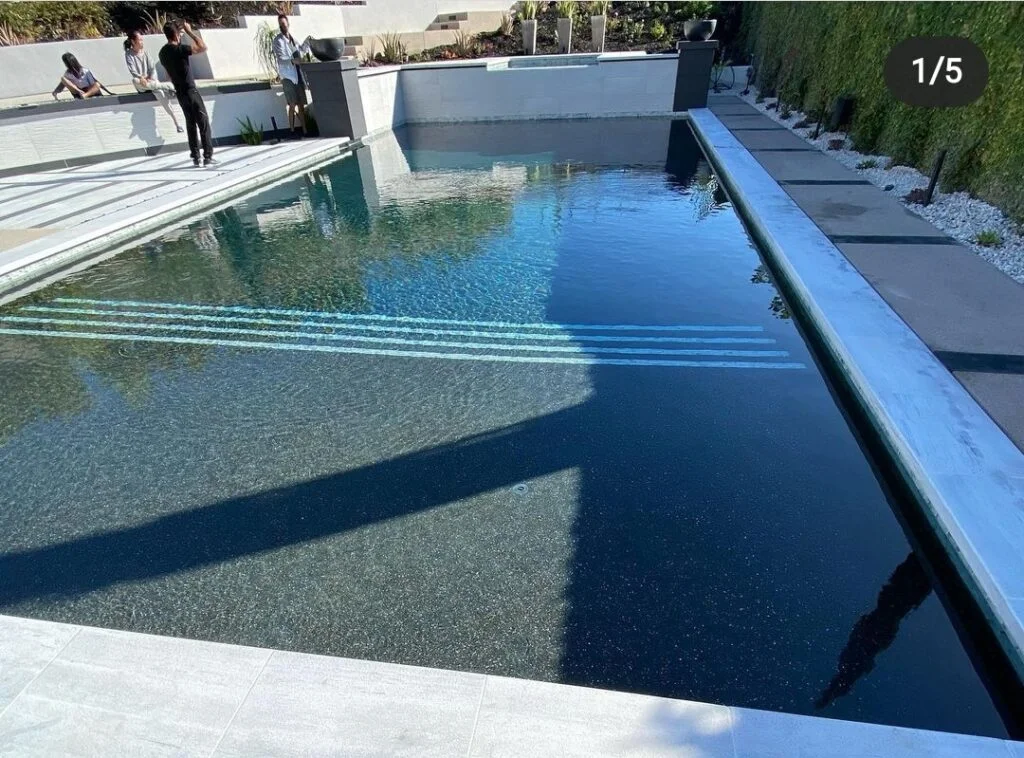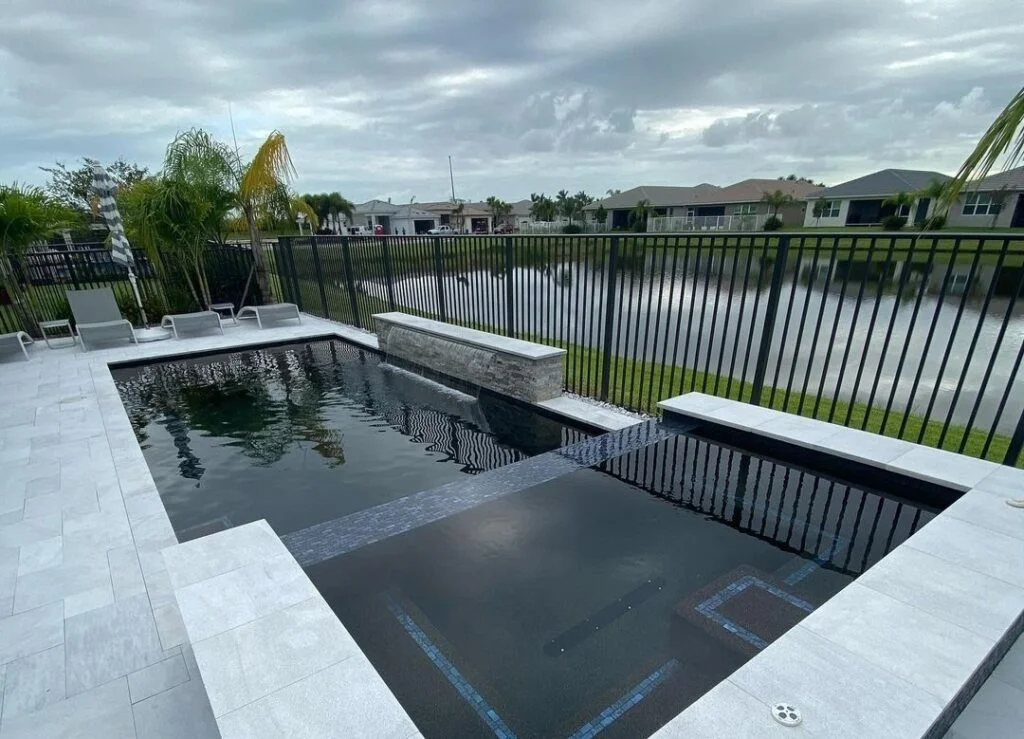 Aqua Cool
As the name suggests, the finish will lead to a light blue tint and a beautiful white shade in the sun. The white Portland cement with cobalt highlights and white quartz pebbles do the trick nicely for this one. The result is a stunning light-colored oasis.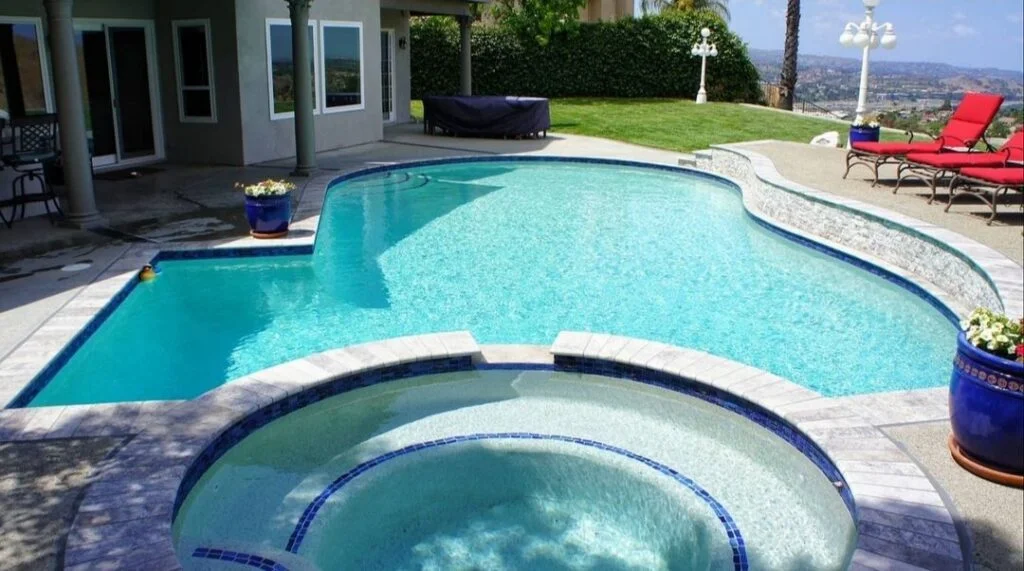 This is the lightest shade you can get while going for Mini Pebble from StoneScapes. If you are light color fanatic, there is really no other way to go about this.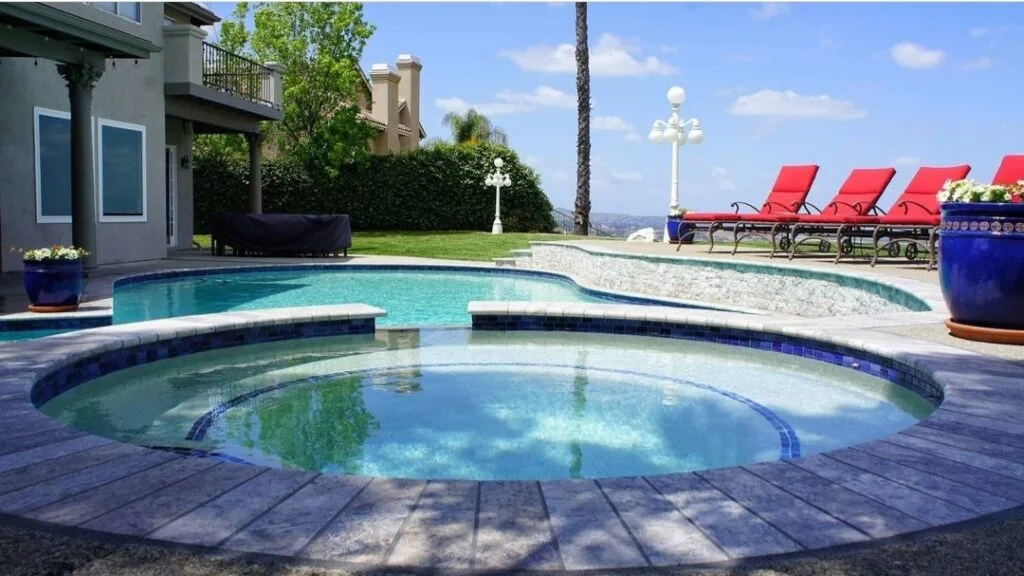 Durability
Resilience goes hand in hand with StoneScapes Mini Pebble finishes. This essence can probably be attributed to most of the materials, used in the composition of the pebbles, being natural . If installed properly, these can easily last arond 15 to 25 years.
StoneScapes finishes have a standard warranty of 10 years which speaks volumes to their durability. Additionally, some applicators who really know what they are doing will provide a lifetime warranty for the pool's finish.
Generally, the pool finishes are composed of abalone shells, primarily. They are augmented with white Portland cement and quartz aggregates. These materials are strong enough to stay intact for quite a while and resist the tears while also maintaining the smoothness of the pool.
The lifeline, however, also depends upon how well the pool is maintained. Make sure that you get through with your pool builder and keep in the know about the chemical balance of your pool. Tears, cracks, displaced pebbles are all indicative of a much needed surfacing renewal.
Cost
The total cost is difficult to predict as it varies a lot with the size, location and finish of the pool. The contractor's labor charges are also a big chunk of the total expenditure which is quite variable.
If we were to put an estimate, we'd say that generally, the price for a complete pool makeover would be between $3,000 and $10,000. Most however fall anywhere between $4000 and $6000.
For a more personalized estimate or professional advice on the matter, hit up our trusted service partners by dialing 888-503-2011.
Maintenance wouldn't take up much either. Regular checkups are a must for all sorts of pools and finishes but the StoneScapes Mini Pebble series is durable enough to be more forgiving in this regard.
StoneScapes Mini Mebbles are known to be a rather affordable option for the average person striving for a simple and neat residential pool. Compared to other brands, it can deliver you quite the resilient material while trying not to rip your pocket off of you completely.
So if you are on a budget, you may not get a better option. Sure, plasters are cheaper but they aren't nearly as smooth and durable. You may get benefitted monetarily in the shorter haul but will end up overspending in the long run.
Conclusion
Aside from these, there are numerous other shades you might want to get to know as well. Needless to say, StoneScapes is brimming with an exciting variety of aesthetic textures and tints.
Plus, you get the added convenience of them being low-maintenance and durable. If you find that your budget is high enough to accommodate a StoneScapes Mini Pebble finish for your pool, I say, go for it!