Aqua leader pools have become synonymous with robustness and class. Their pools are compact, round or oval shaped, above-ground swimming solutions designed for small backyards.
The brand started in 1975 and it was only until 1986 that it became the leading manufacturer and a pioneer in synthetic resin above-ground pools.
Their refined aesthetic feel will have you swimming in no time. At Aqua Leader, affordability meets engineering and beauty. The brand is known to add the most 'resin' to its pool's construction at a price range affordable to most. This is what gives it an edge over its competitors like Vogue and Mighty Sun.
Here is what Google trend search shows for for 'Aqua Leader Pools' over a span of 12 months.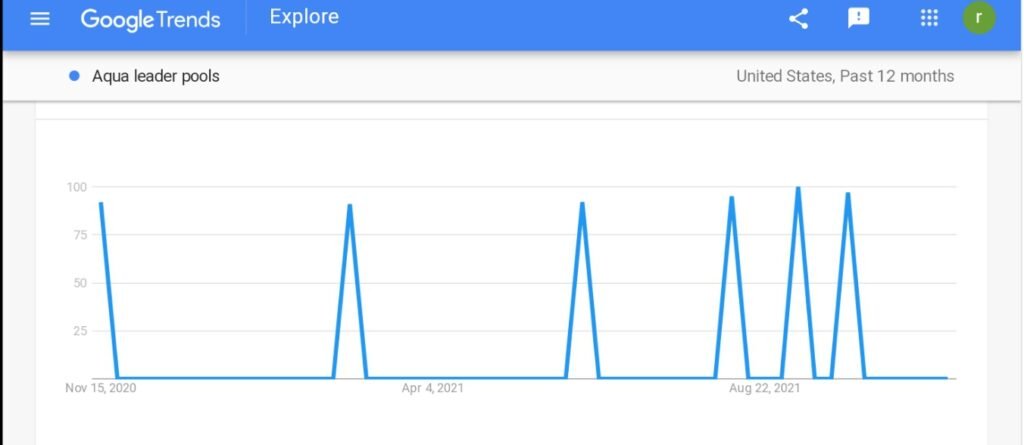 Website
A straightforward drop down menu with easy-to-understand titles and a responsive design makes Aqua Leader's website very easy to navigate. Users can find the pool they are looking for within a few clicks.
The eye catching fonts and high-resolution images used add to the professional look of the website. When you click on any product, the description that loads is not more than three lines long with a single image to supplement the information.
Also the lack of clutter makes the page speed incredibly fast. The website is also very well organized with just necessary number of tabs and menus.
Product Line-Up
The customers interested to buy an above-ground pool are spoiled by the choices in Aqua Leader's extended product line-up. There are 19 total pools to choose from. From a printed patterned wall of Quantum to Spirit's hybrid construction, you decide what adds a visual significance to your backyard's furnishing trends.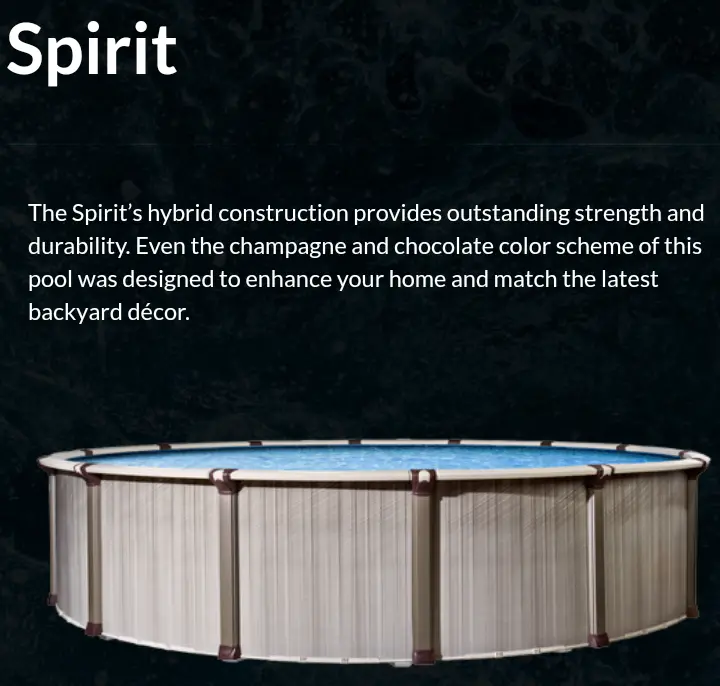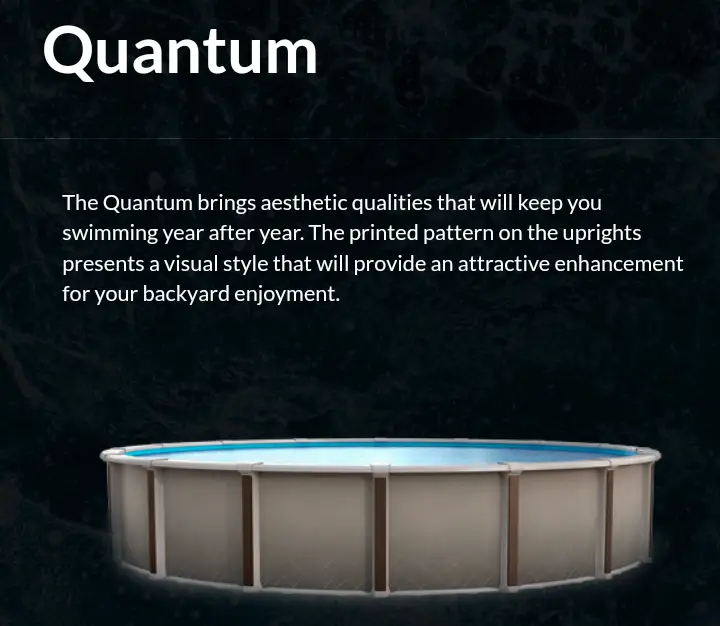 Durability
Aqua leader resin pools come with unmatched strength and durability, all thanks to the injection molding technology by which molten thermoplastic resin can be molded into the most complex shapes. The resin coatings on bare steel walls makes the pool corrosion, oxidation and rust proof.
The structure of these pools carries absolutely no angular joints which contributes to a continuous curve. The absence of the angular joints also makes the rails all the more resilient.
Its above-ground pools last 7 to 12 years, given they are maintained properly, which is a great return for the budget price tag they come in.
In summers, you will enjoy swimming in a resin above-ground pool more than a regular steel one because this material remains cooler to the touch under the scorching sun. It means you can easily rest your head or arms on the rails while relaxing in the water.
Aesthetics
These pools are what you would call the 'get the job done' type when it comes to the aesthetics department. Designed with the functionality over design perspective, they are not precisely mesmerizing to look at.
Overall, the looks of these pool are quite underwhelming, in my opinion. Pertinent to mention here is that there is little room to play with in terms in the designs of above-ground pools.
If you truly intend to dazzle your guests with the looks of your pool, you would be much better off with the more costly in-ground pool liner with an outstanding color choice for the pool liner. For that purpose have a look at this article: What Color Pool Liner Looks Best?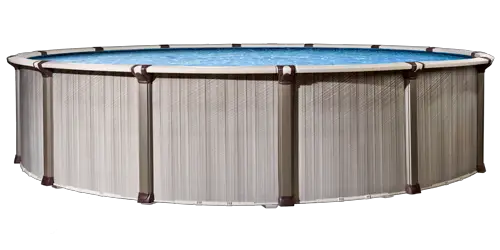 Customer Reviews
Customer reviews are genuine feedbacks we all rely upon before making our purchase decision from anywhere. Nothing helps making a decision better than someone's hands on experience for a product.
Let's see what a customer of Aqua Leader pools suggested to a person on a community portal who was confused between buying a pool from Might Sun and Aqua Leader Pools.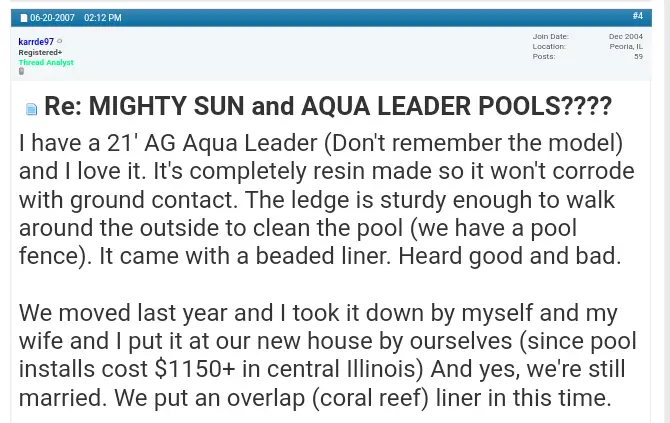 Note how he emphasized on the easy installation of the pool saving himself more than $1150, which is the labor cost in Central Illinois where he lives.
Here is another happy customer sharing his satisfaction for the quality of the Mirage model which was all resin made.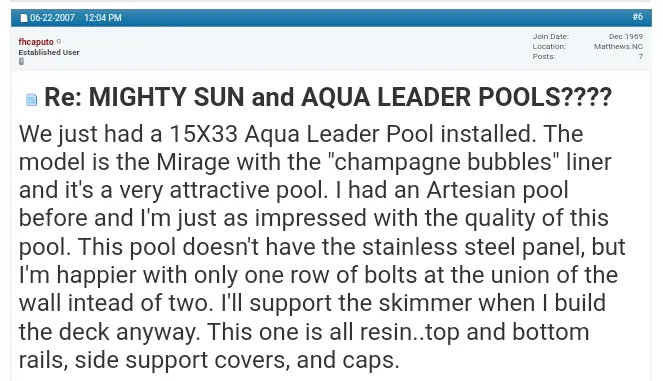 Here is yet another customer review posted on 'troublefreepool.com' appreciating Aqua Leader pools over Vogue pools for the extremely low price points they come with, without much difference in features and size.

Prices
Aqua pool are leaders are quite competitively priced, to begin with. What contributes most to the affordability of Aqua leader pools is the fact that resin cuts down the after-installation costs to a considerable degree.
Maintaining a synthetic resin built pool is easier because the high strength plastic is not prone to water damages like rusting, scraping and offers great compatibility with salt water which is a popular choice for sensitive skin.
Above-ground pools save the cost of excavation and the installation is also very quick and inexpensive.
Conclusion
It took sheer commitment and years of research and development for Aqua Leader to become a world-leader in the synthetic resin above-ground pools manufacturer. The robust structure of these resin pools keeps them intact over the course of years.
The intriguing lines and shapes of each model are what adds to their high-end style. Furthermore, the 54″ heighted wall means you and your kids can safely enjoy the pool time.
Each pool from Aqua Leaders will enchant your summers with the perfect combination of style, performance and durability. A must in terms of quality and value for money. The resistance of resin to impact and breakage is what makes these pools versatile.
These pools are highly recommended for the salt water lovers. It is time to bond with your loved ones in your personal pool space. With the unparalleled quality and construction, no one builds an all resin pool frame like Aqua Leader Pools does thanks to the immense experience it has to rely upon.
If you liked this product review, please check out my other equally in-depth product reviews: